17 Emoji Food Ideas for Your Emoji Themed Party
Are you throwing an emoji party? Here are 17 epic Emoji Food Ideas (and even some emoji crafts) to inspire you. From cute smileys to confusingly delicious poop emojis, you'll find something to wow your guests and delight your taste buds.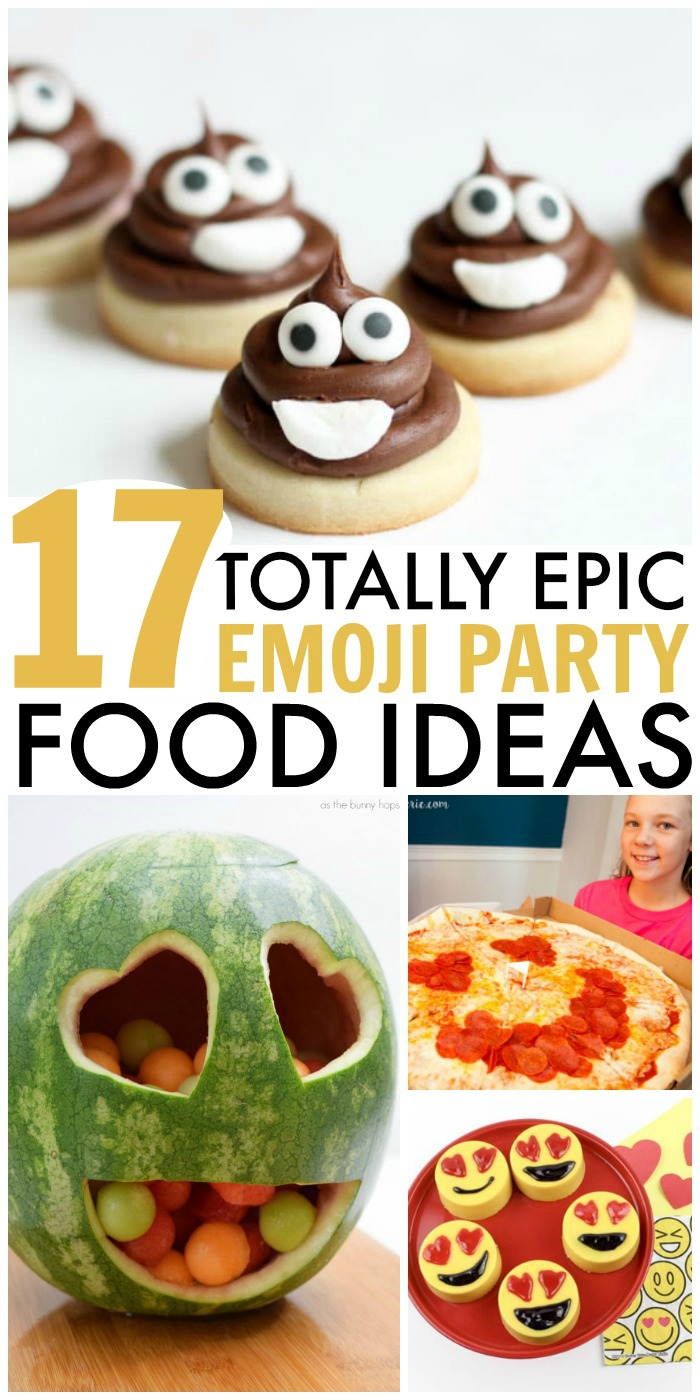 Epic Emoji Food Ideas for a Party
Emoji Cupcakes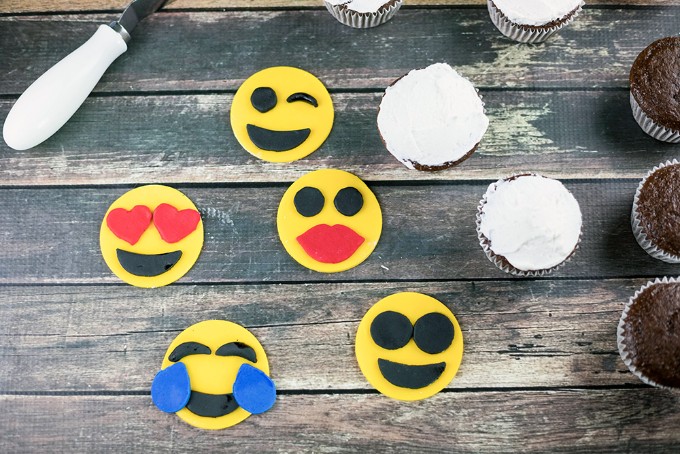 It just isn't a party without cake, and lucky for you, these emoji cupcakes are super simple. You can use ready-to-roll fondant to make it even easier. – From A Magical Mess
Poop Emoji Cupcakes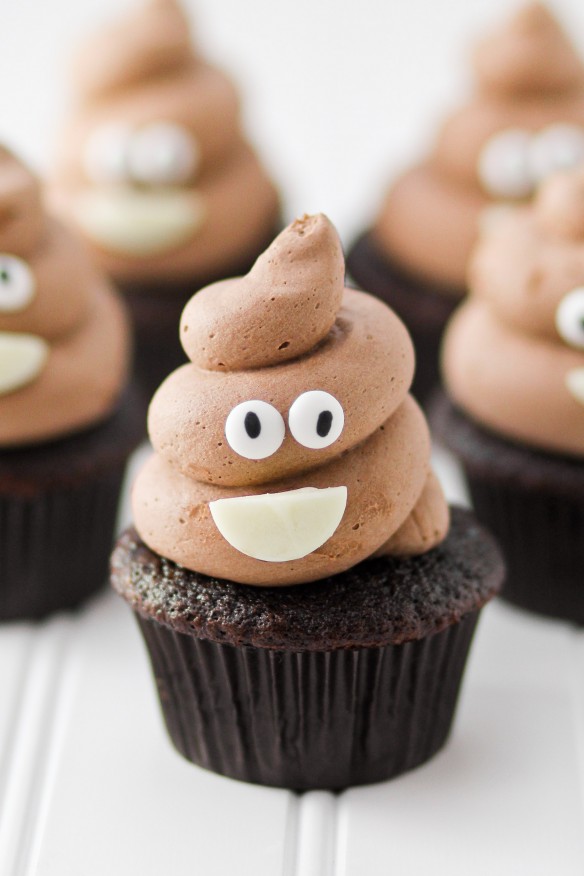 If smileys aren't your thing, your guests will definitely get a kick out of eating poop emoji cupcakes. – From Confessions of a Cookbook Queen
Poop Peeps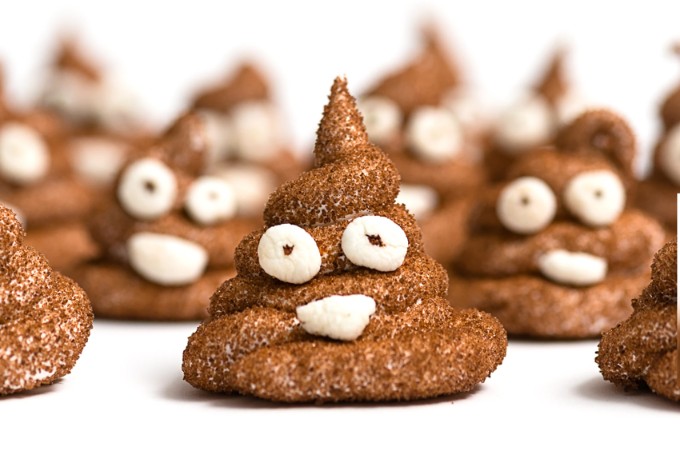 Marshmallow poop peeps that are shaped like poop emojis? The kids will go crazy for them! – From Nomageddon
Emoji Candy Pops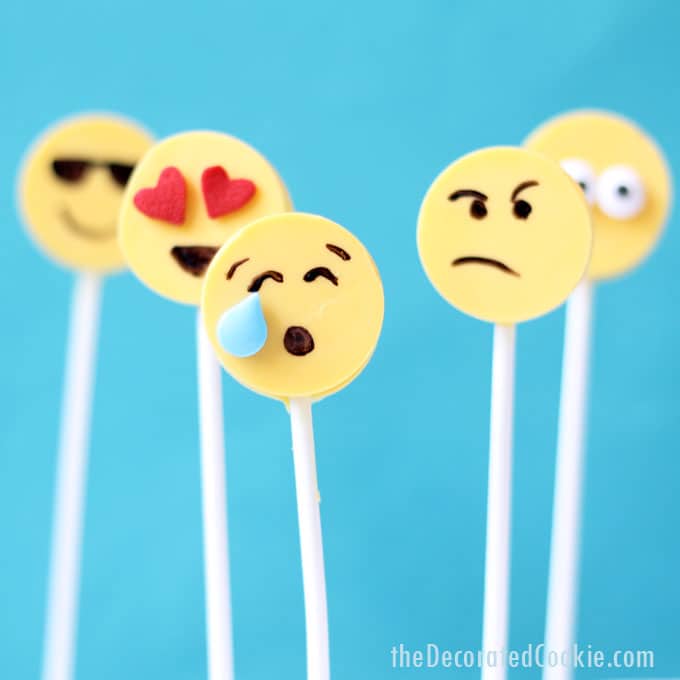 These emoji candy pops would make great favors for your party guests! Wrap them in cellophane and tie a pretty yellow ribbon around the lollipop stick. – From The Decorated Cookie
Heart Emoji Donuts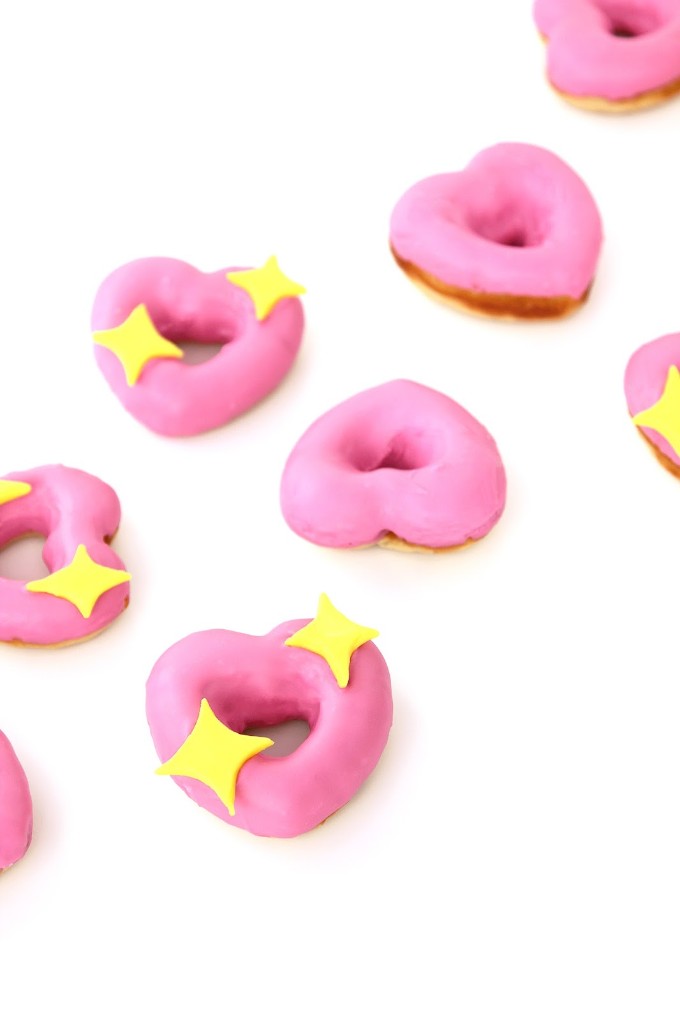 If you're looking for a fun alternative to cake, these heart emoji donuts are gorgeous. – From Aww Sam
Mini Emoji Pizzas
Instead of ordering from a pizza joint, make mini emoji pizzas! If you don't want to make a crust yourself, you can easily do these on bagels or English muffins.
Poop Emoji Cookie Bites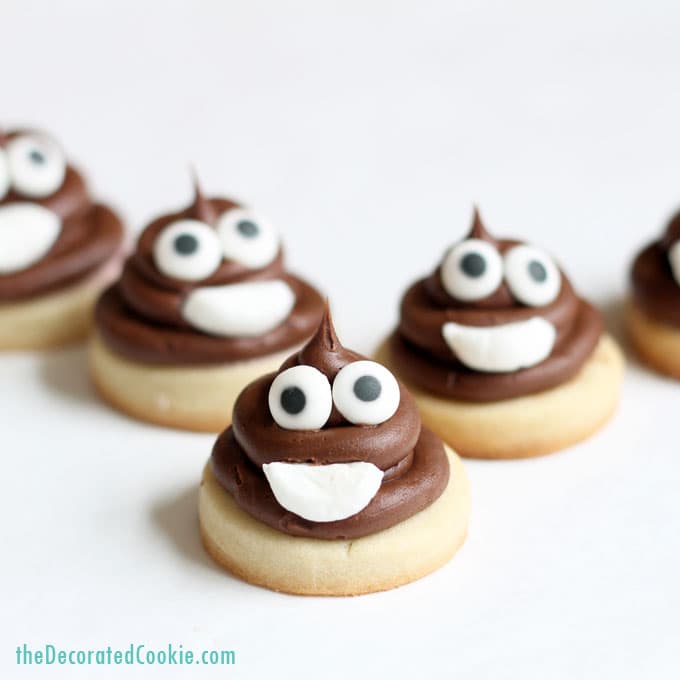 Kids will get a huge kick out of these poop emoji cookie bites. Use pre-made cookie dough to make baking the cookies even easier, and top them with this delicious chocolate buttercream frosting. – From The Decorated Cookie
Chocolate Caramel Fudge Smiling Poo Emoji
These fudge smiling poo emojis are so much fun. Instead of the "love stinks" toppers, you could put something like "getting older stinks" if using them for a birthday party for an adult. Hilarious! – From Hungry Happenings
Emoji Macarons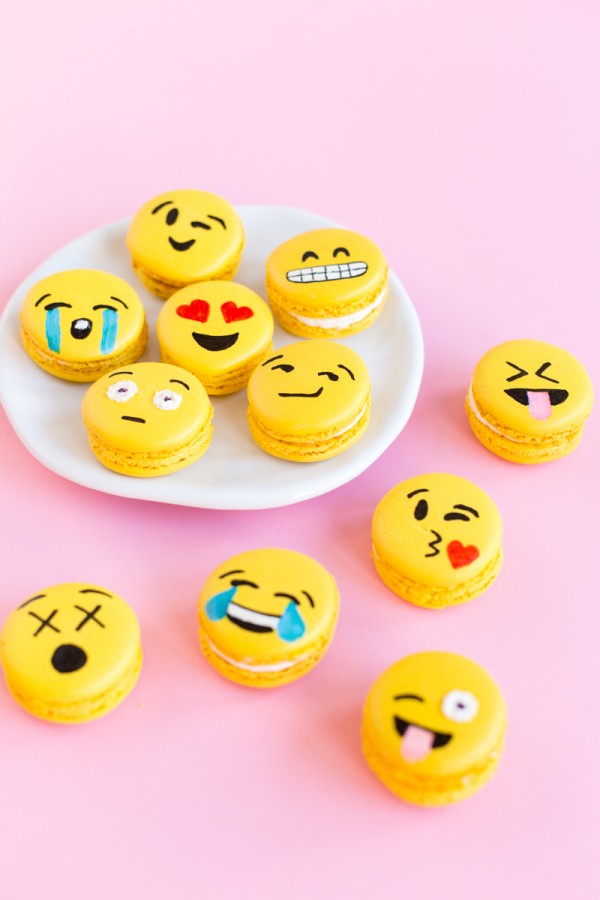 These lemon emoji macarons are super easy because you don't have to make the macarons yourself. I mean,  you can if you want to, but since you're probably planning an emoji party, you'll want to save time where you can. Just buy pre-made macarons, food decorator pens, and some frosting. Boom. You're all set to make some totally cool desserts. – From Studio DIY
Deviled Egg Emojis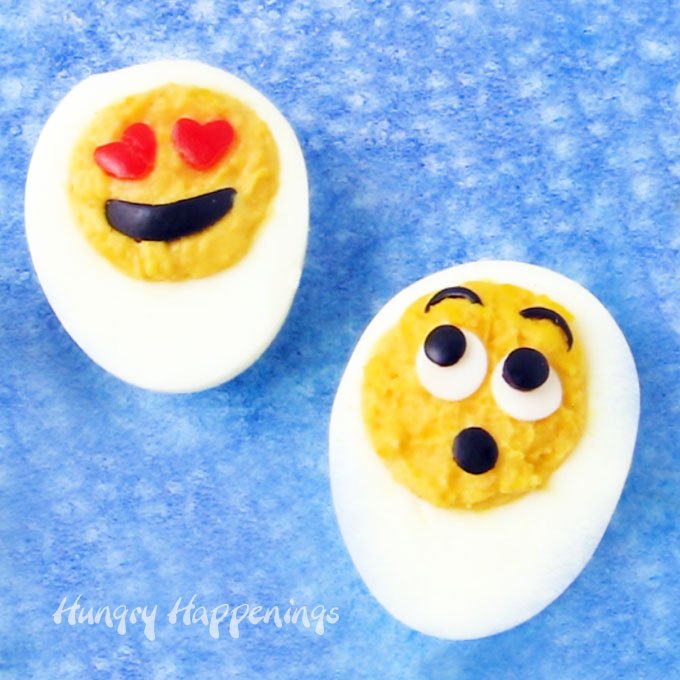 Looking for an emoji-themed appetizer? These deviled egg emojis are perfect! Don't worry… There's nothing sweet on these. The eyes are made of egg whites and olives, red pieces are made of peppers. What a smart idea! These would be so much fun for your next family reunion or picnic, too. – From Hungry Happenings
Smiley Fries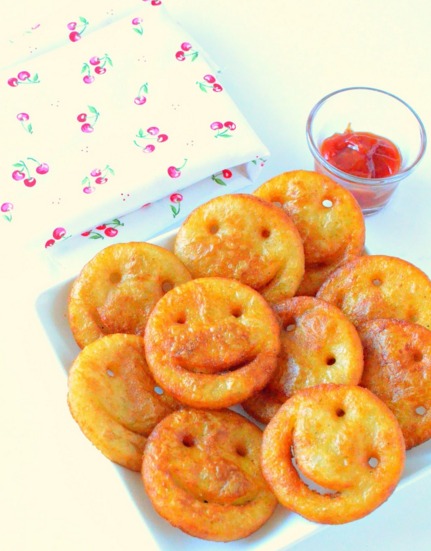 If you're serving hot dogs, burgers, chicken nuggets, etc., then these smiley fries would be the perfect side. They look scrumptious!
Poop Emoji Popsicles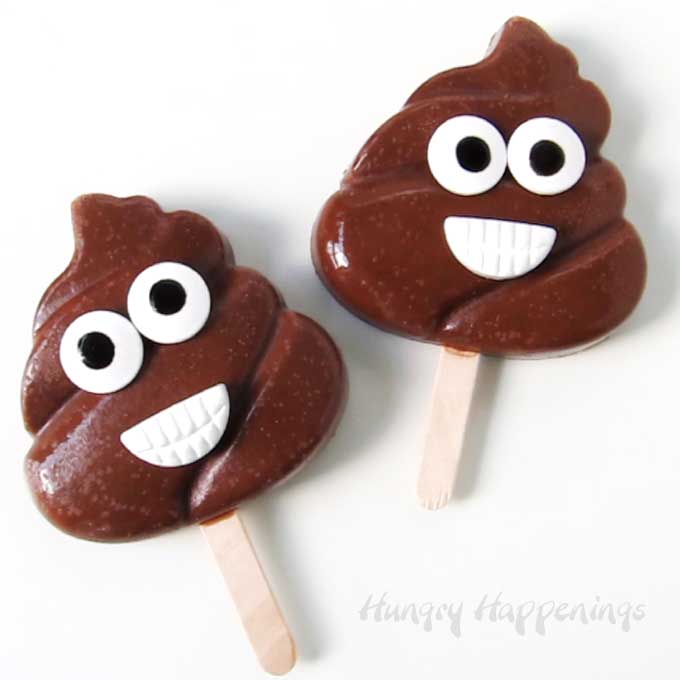 Planning a summer emoji themed party? These poop emoji popsicles are a MUST have. In addition to being really cute, they're made with Nutella, which is my all-time favorite thing in the world. – From Hungry Happenings
Emoji Snack Mix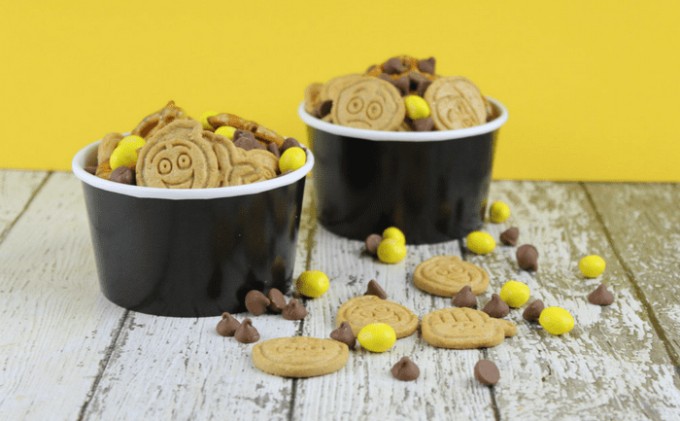 If you can still find the emoji-themed honey graham snacks, this emoji snack mix would be a big hit. Add pretzels, M&Ms, and yellow coated candies to complete the mix. The salty-sweet combo is so yummy. – From My Mommy World
Heart Eyes Emoji Oreos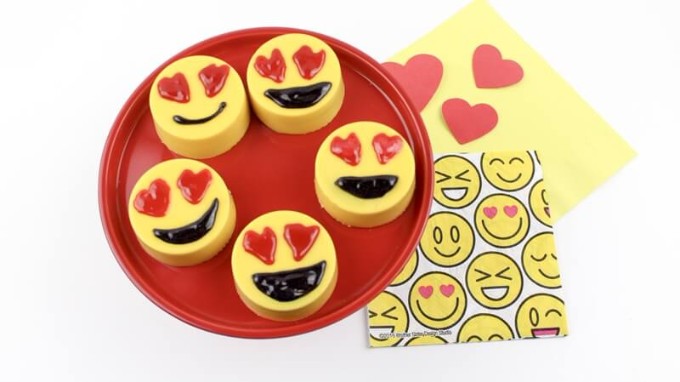 Add these cute heart eyes emoji Oreos to the dessert table. Or feel free to experiment with different emoji expressions using the same idea. Candy-coated Oreos are completely amazing no matter which face you choose. – From Crayons and Cravings
Emoji Pizza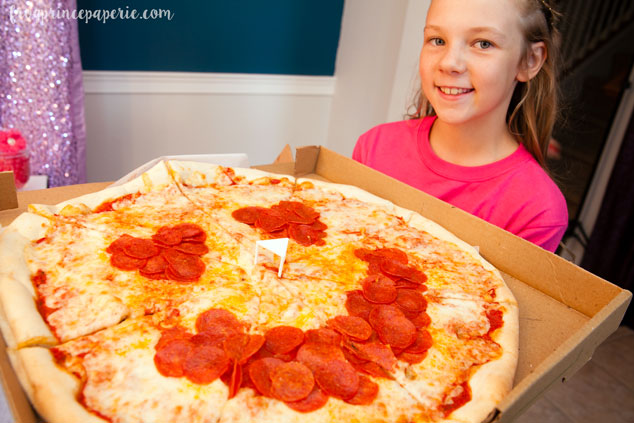 It's easy to turn your pizza into an emoji pizza… just make a smiley face with the pepperoni! If you're ordering out, just ask the pizza place to do it for you. They'll get a big kick out of the request. – From Frog Prince Paperie
Emoji Watermelon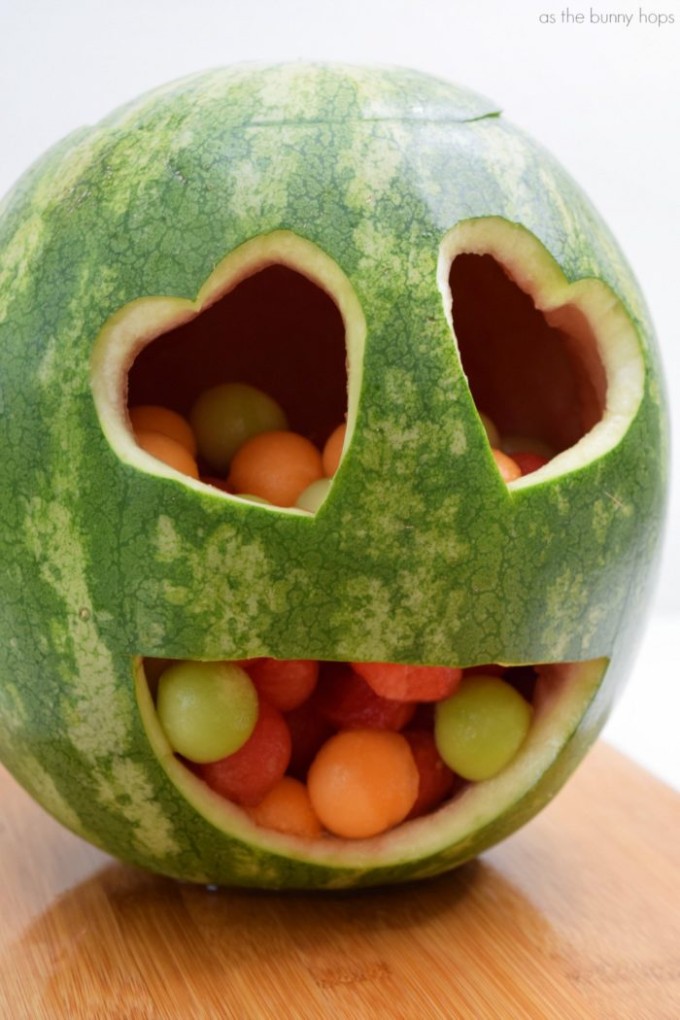 Set out an emoji watermelon filled with melon balls (watermelon, cantaloupe, honeydew, etc.) as a healthy snack option for those who are watching their calories at your party. – From As the Bunny Hops
Emoji Pudding Cups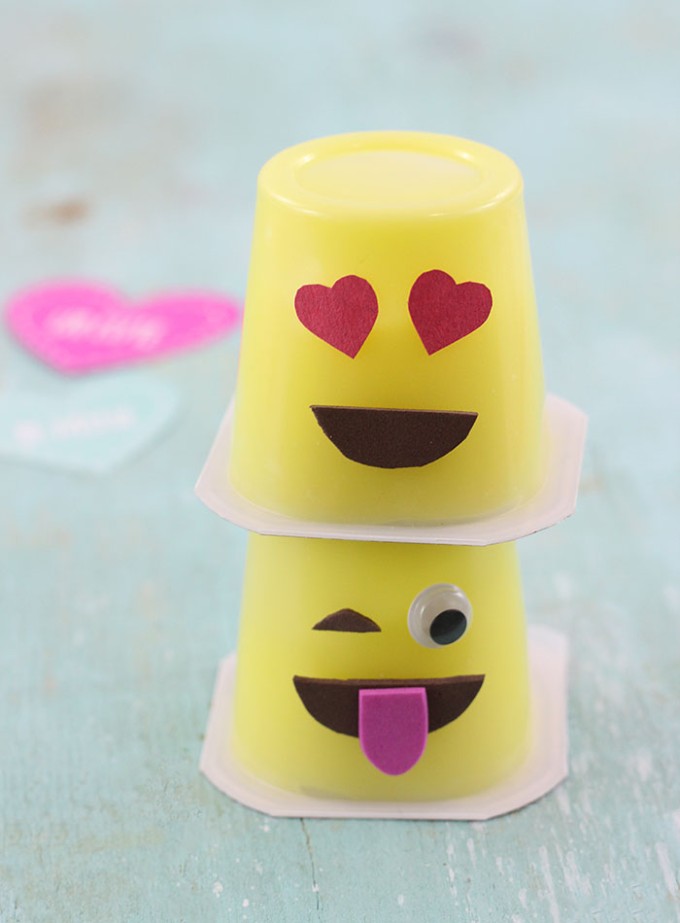 Stack emoji pudding cups on the table to serve as both decor and a fun snack for the kids. – From Cutefetti