13 Under Sink Storage Ideas You'll Wish You Had Found Sooner
No one sees what's under your sink, so it's easy to let that area slip. Empty cleaning bottles, dirty dish rags, cleaning gloves that have seen better days… I've been there. Heck, I'm currently there. But I've been searching for some practical under sink storage tips, and I've found some brilliant ideas to share with you.
The great news? You don't have to spend a lot to get your under-sink area in tip-top shape. Many of these solutions only cost a couple of bucks! From pretty bins, to hooks, to smarter container storage, you're sure to find an idea here that will help you get control of your under sink cabinet space.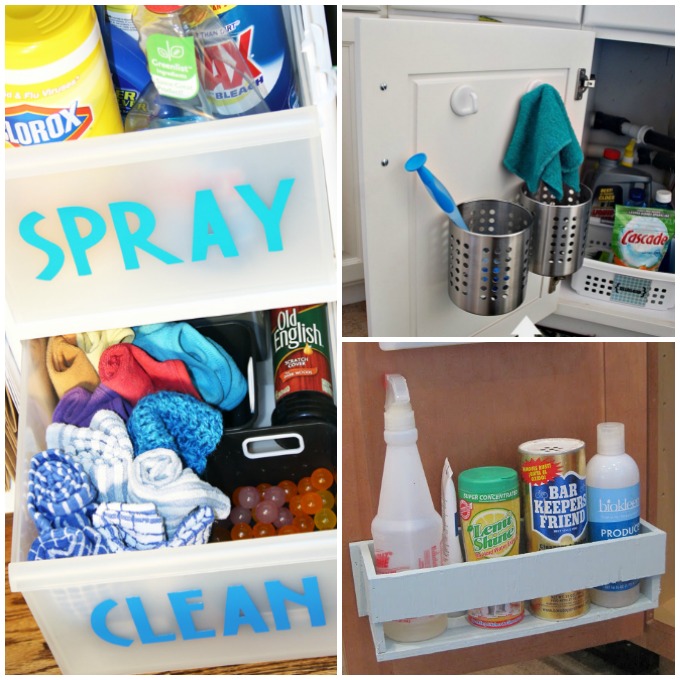 Under Sink Storage for the Bathroom and Kitchen
Here are some items for under sink storage that will help you prepare to organize your space: baskets, clear bins, command hooks, toothbrush holders, slender containers, and tension rods.
But first, check out all these great ideas!
Cleaning Gloves Storage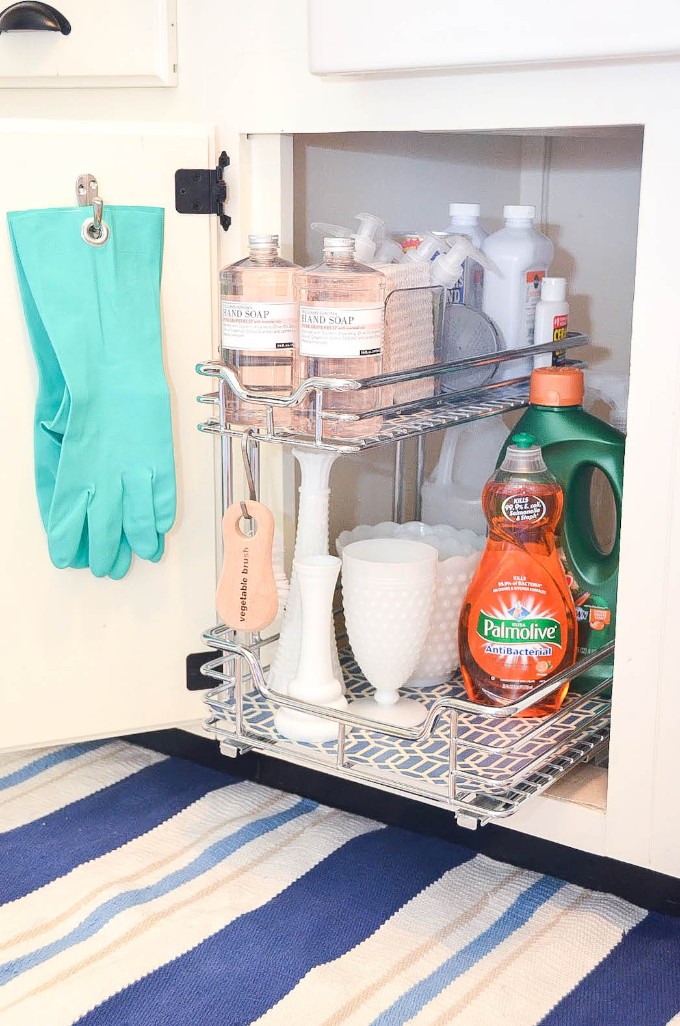 While we love the idea of the pull-out two-tiered shelf, our favorite part of this set-up is the cleaning gloves storage idea. They are placed on a hook just inside the cabinet door. I don't know why we have never thought of that, to be honest. It beats digging around for cleaning gloves amongst all the cleaners for sure. – From Iron and Twine
Buckets on Cabinet Door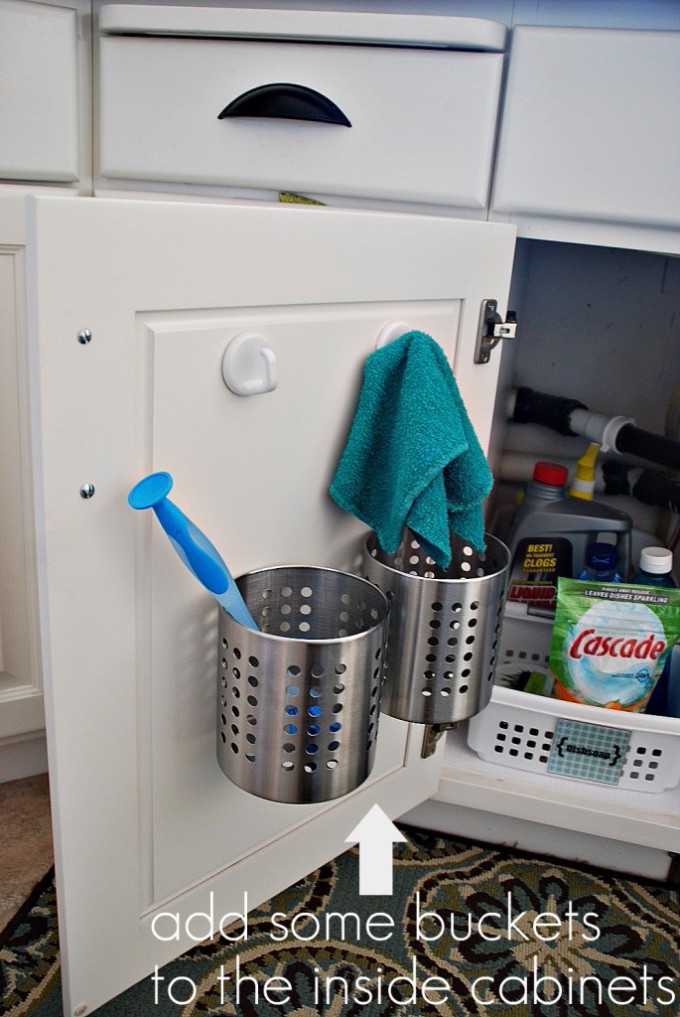 Add small buckets to the inside of your cabinet door to hold sponges, scrub brushes and other odds and ends. If you can't find small containers like these, just try the toothbrush holder section in your local store. You're sure to find something nifty there! – From Tatertots and Jello
Baskets and Caddies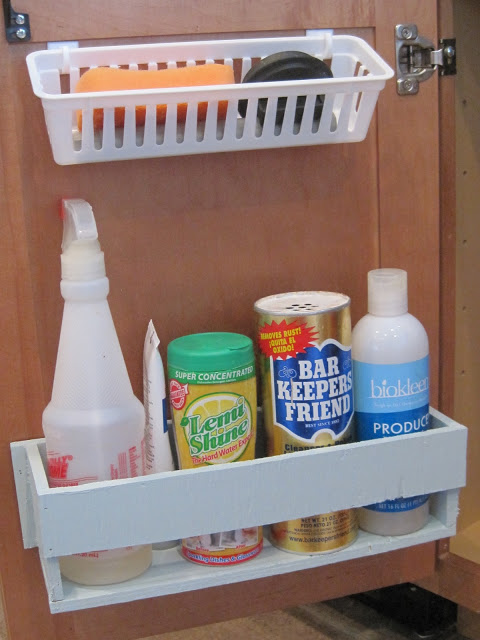 Or, instead of buckets, install baskets and caddies on the inside of the door to utilize that often unused space. The caddies can hold your most frequently used cleaners, Magic Erasers, sponges and more. Install baskets or caddies that will hold heavier items with hardware instead of stick-on hooks or pads. – From Designed to Dwell
Sleek Container Storage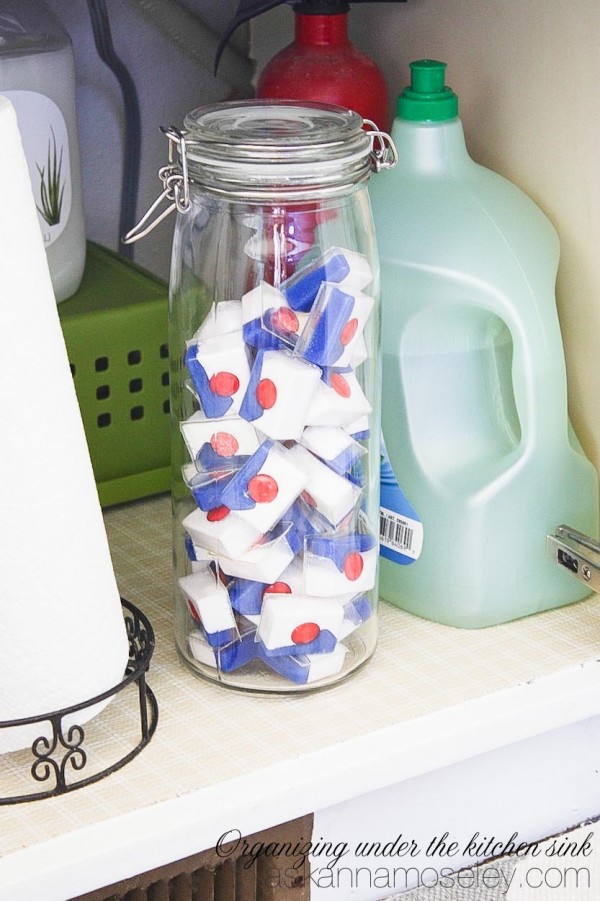 One way to get rid of bulk in your under sink cabinet is to use sleeker containers. For instance, those dishwasher pods often come in a big, bulky box. This slim, streamlined container is the perfect solution, and it looks really pretty. – From Ask Anna
Wire Baskets and Shelves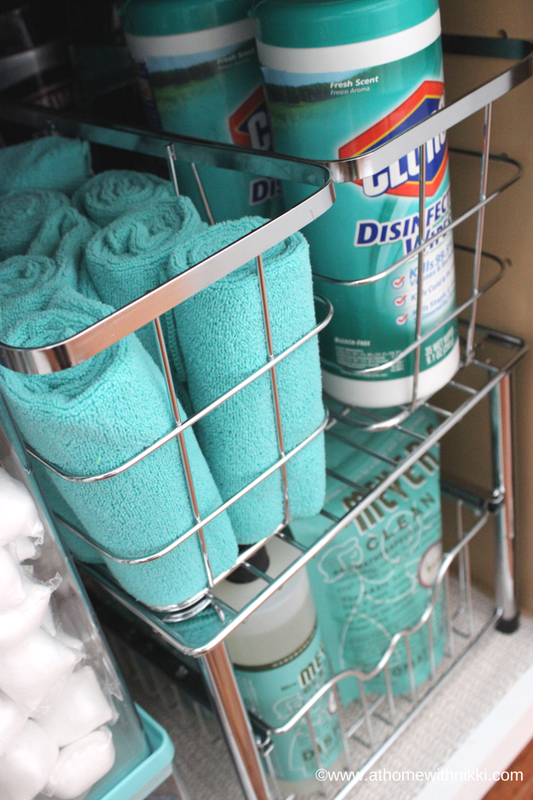 Speaking of sleek, wire baskets and shelves can completely transform your under-sink area. The color coordination here is as beautiful as it is practical. – From At Home with Nikki
Tension Rod for Cleaners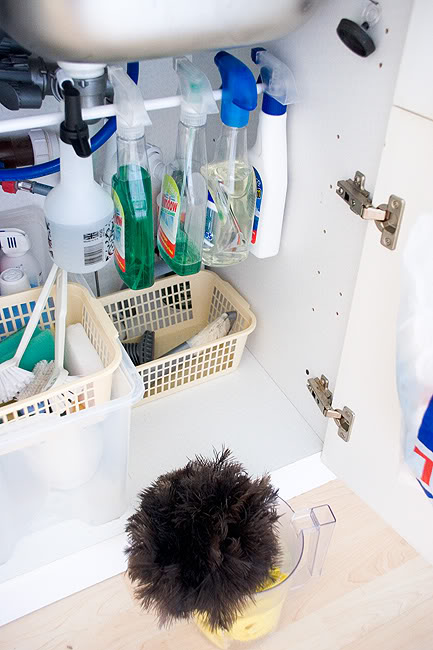 I don't know about you, but I often find myself knocking over my spray bottles to find the one cleaner that I need. If your cleaners are taking up too much of the floor space in your cabinet, install a tension rod to hang the bottles from. This is pure genius! – From A Thousand Words
Labeled Bins Under the Sink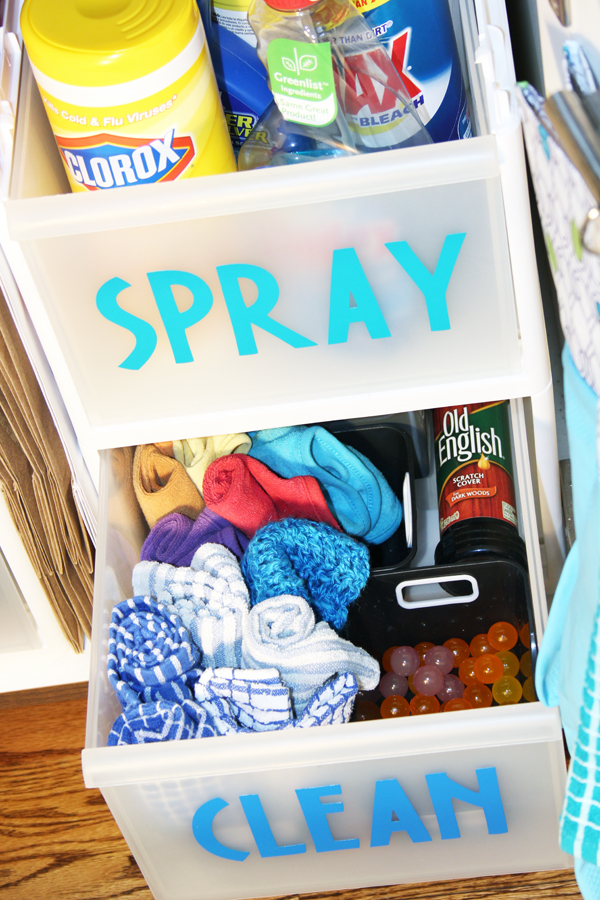 Plastic bins from your local Dollar Store will be perfect for making labeled bins for under sink storage. She has cleaners in one, and dish rags and washcloths in another to keep what she needs together. – From Blue I Style
Feminine Hygiene Products Storage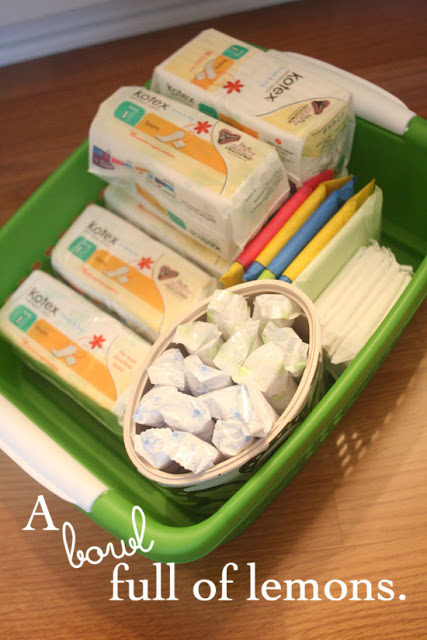 For those of you with multiple girls in the house (or for those who like to buy in bulk), you may want to use bins to store feminine hygiene products. It keeps everything neat and tidy so that you can find what you need in a pinch. – From A Bowl Full of Lemons
Trash Bag Storage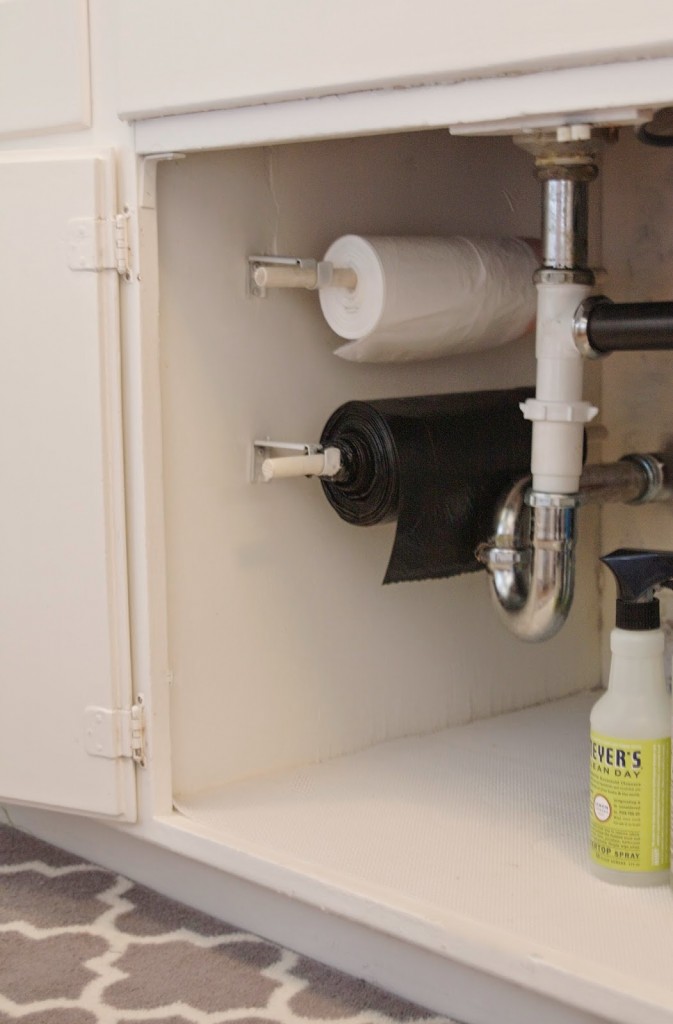 I've seen this trash bag storage idea all over Pinterest for years, and I can see why. It's brilliant! It keeps the bulky rolls of trash bags out of the way and out of those ugly boxes. Yet, whenever you need one, just reach into the cabinet and unroll. Easy peasy. And if you leave enough room on that side of the cabinet, you won't have any trouble changing out rolls. – From Simply Organized
Clear Container Storage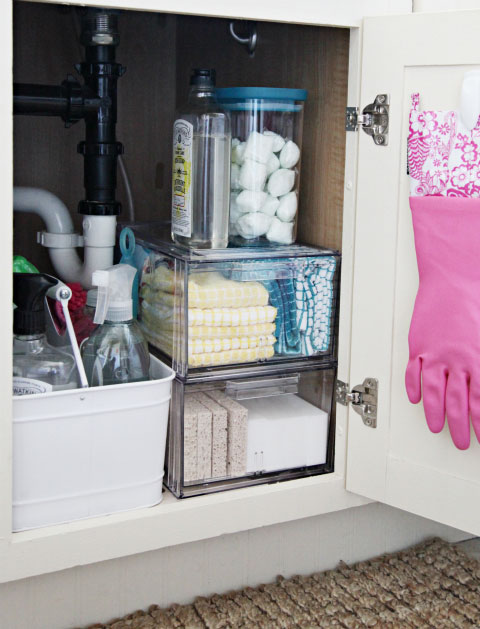 While I love the ideas of baskets and bins to sort and store the items under my sink, I know what would happen with the pretty colored ones… They'd end up a jumbled mess when I pulled each of them out to see which one contains what I need. But with clear container storage, it's all out in the open (so to speak), so  you can find what you need at a glance. – From I Heart Organizing
Faux Drawer Storage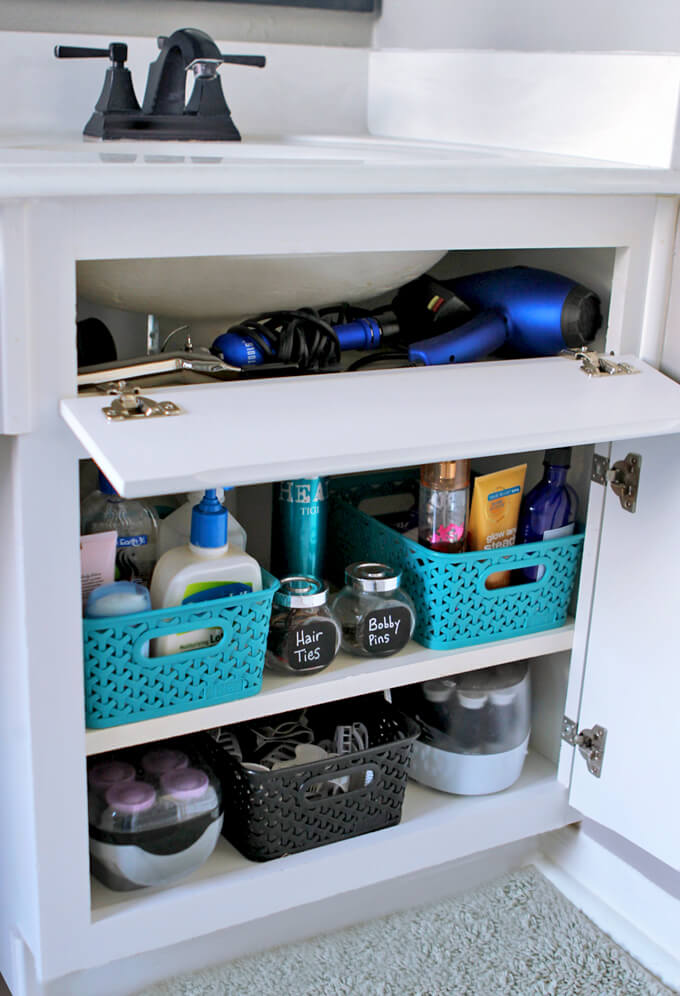 Raise your hand if your sink has a faux drawer that's useless. *Raises hand.* But what if it wasn't? You can modify yours to use it to store hair styling tools. That would be super handy if you're working with a small bathroom cabinet. The little jars for bobby pins and hair ties is a lovely touch, too. – From Gray House Studio
Paper Towel Storage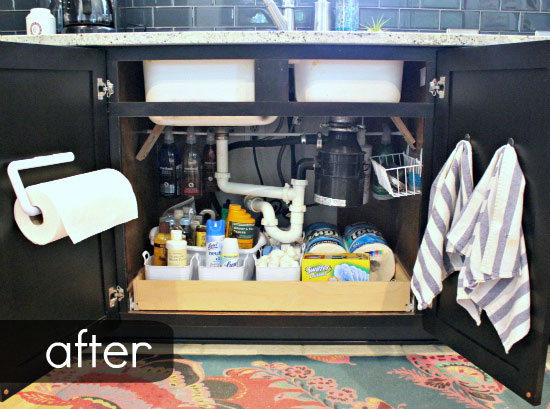 If you want to get rid of kitchen counter clutter, install a paper towel holder under the sink to get yourself off to a great start. She also stores her dish rags there, which is clever, because it allows them to air out a bit more versus just flopping them on the countertop. – From I Heart Organizing
Make It Pretty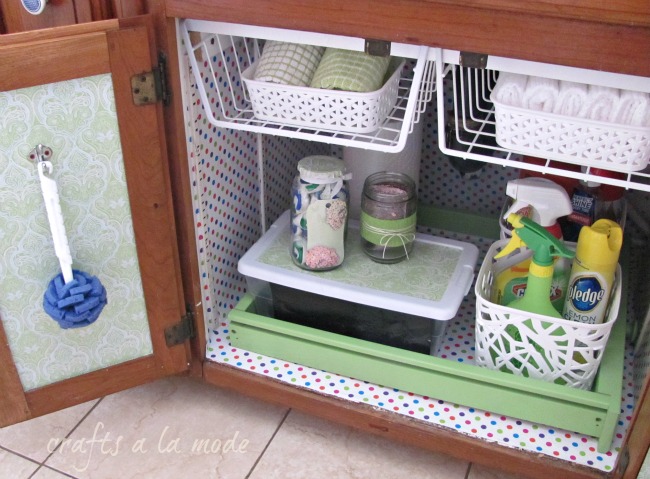 Finally, make it pretty. Sure, it's not something that your guests see that often, but if you're reaching under the sink for cleaners or toiletries every day or so, there's an incentive to make it look nice. The bright colors in this cabinet would definitely make me smile! Hanging the sponge on the door was a smart move, too. – From Crafts a la Mode
Pin the image below to save these ideas for later!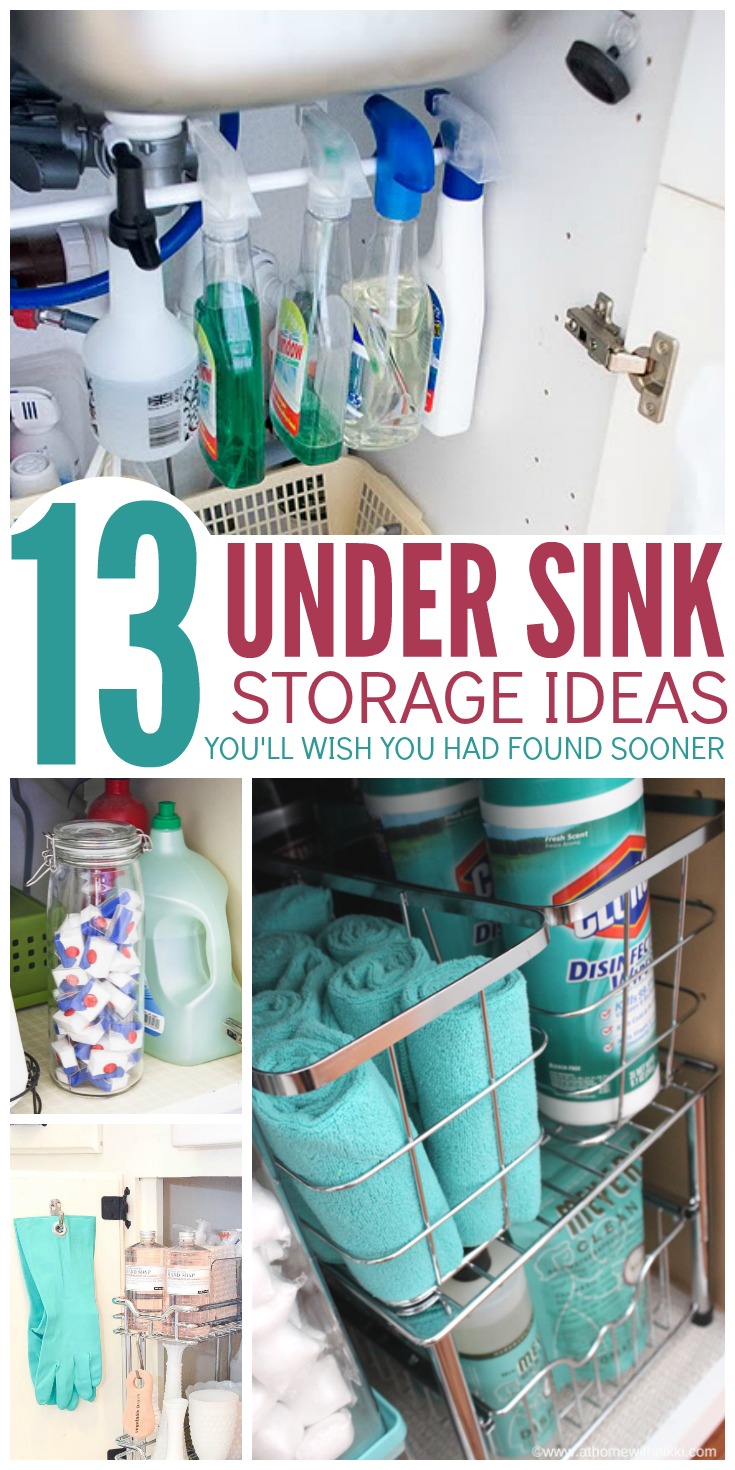 We hope you enjoyed all these under sink storage tips! Get more kitchen cabinet organization ideas at our partner site, and visit our friends at One Crazy House to find more ways to organize under the bathroom sink.