People have many reasons for wanting to use homemade cleaners. Maybe you are worried about toxins in commercial cleaners and want to use greener products in your home. Perhaps money is tight and you need to save a few dollars here and there when you can. Both reasons are completely valid. And the beauty of making your own homemade cleaning recipes is that you can do both — you can save money and feel that your children and pets are safer when you clean. Ready to get started? Here are 11 super simple cleaning recipes to try today.

Simple Homemade Cleaners You Can DIY Today
If you're just getting started making your own homemade cleaners, you may want to line up a few common ingredients. These are baking soda, borax, Dawn dish detergent, Castile soap, citric acid, white distilled vinegar and essential oils. The essential oils are mostly just for scent, though some of them aid in creating antibacterial cleaning solutions. However, most homemade cleaning recipes are just as effective with or without the essential oils, so don't worry if you don't have any on hand. It's not a deal breaker.
And while you can shop for these ingredients online (I buy lots of mine from Amazon), things like baking soda, borax and vinegar can definitely be purchased cheaper in your local stores or in major chain stores such as Walmart or Dollar General. Our stores, however, do not carry things like citric acid and essential oils (at least not that I can find), so those are purchased online for convenience. Who has time to go to half a dozen different stores, right?
Let's get to those diy cleaning recipes:
Homemade Citrus Cleaner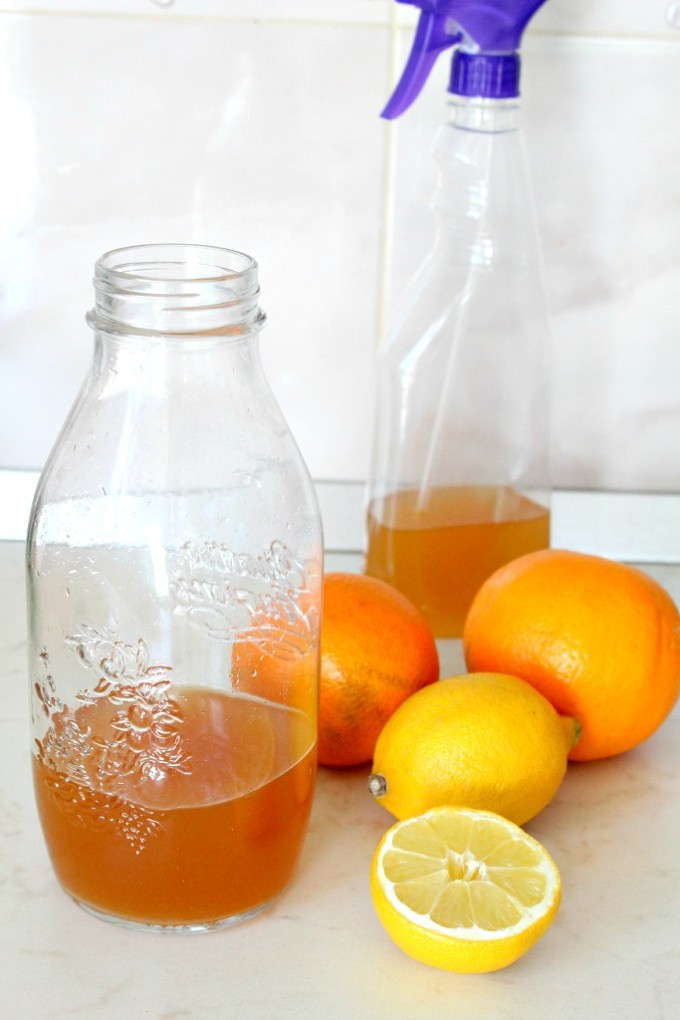 For cleaning in the kitchen, you can't beat a homemade citrus cleaner recipe. Use peels from oranges, grapefruits, lemons… anything you have on hand! After allowing the vinegar and citrus peels to sit for about 14 days, the cleaner will smell mostly citrusy, getting rid of most of the vinegar smell. This is such a great tip if you can't stand the smell of vinegar (like my husband). – From Easy Peasy Creative
Homemade Upholstery Cleaner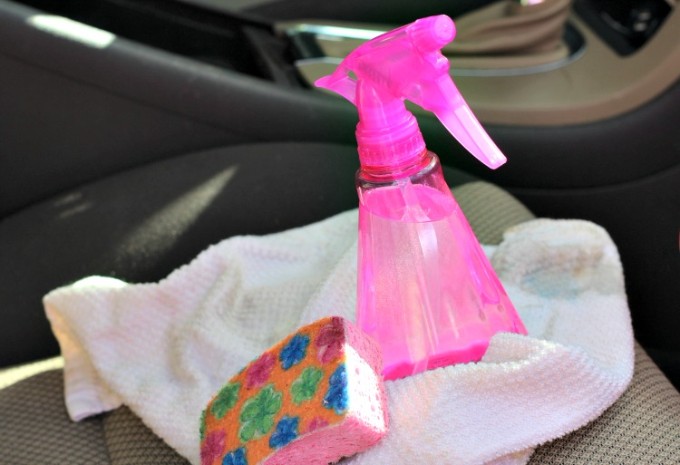 You'll use this homemade upholstery cleaner in your home and in your car. It works like a charm. The rubbing alcohol and vinegar power through stains while the essential oils leave behind a pleasant smell. After all, no one wants to drive in a car that smells like vinegar! – From Powerful Mothering
DIY Toilet Bowl Cleaner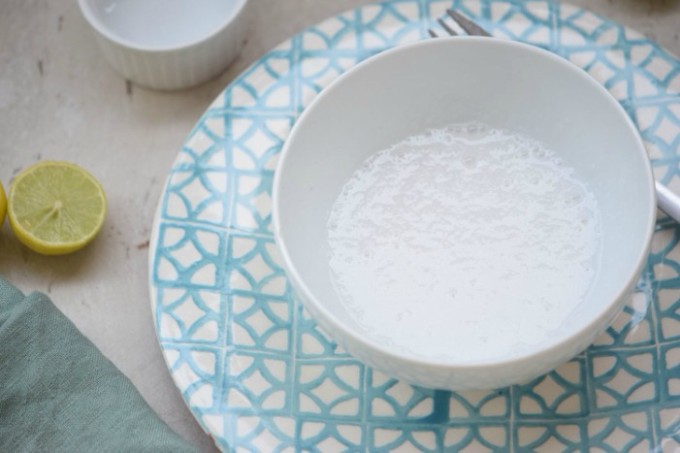 Cleaning the toilet can be a tough and thankless job, right? It gets a little easier with this homemade toilet bowl cleaner, though. It's made with vinegar, baking powder, soap and essential oils. You probably have everything you need in your cupboard already! – From One Crazy House
DIY Soap Scum and Shower Cleaner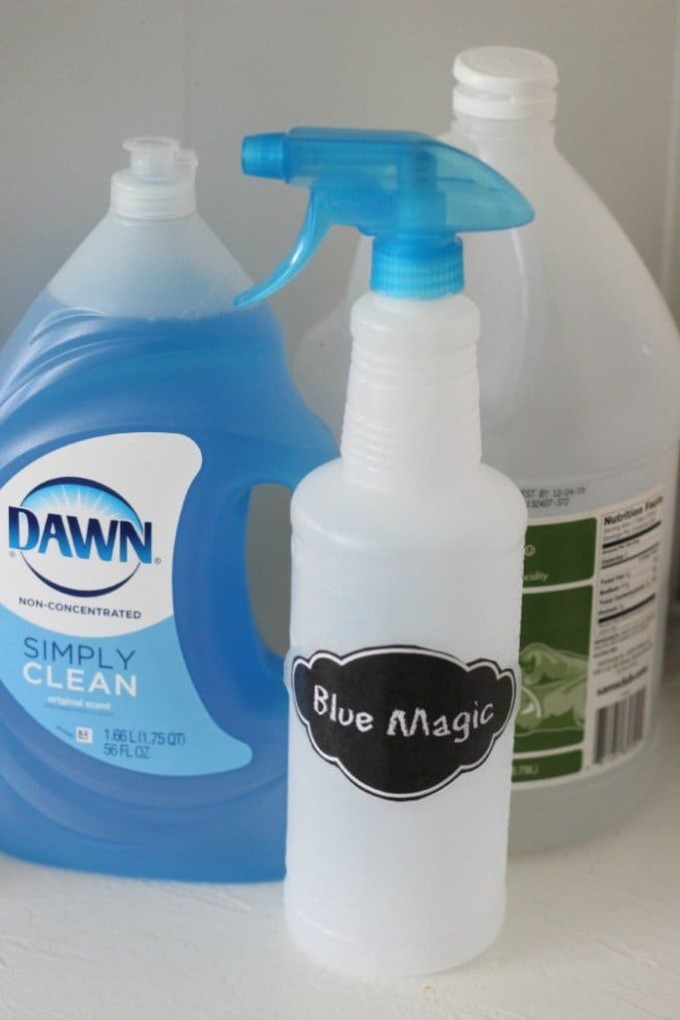 She calls it "Blue Magic," and that's an accurate name. Having used this recipe of half vinegar/half Dawn detergent many times myself to get rid of tough stains in the shower, I can say that it works like a charm every time. Sure, it's a little stinky, but when you see how easy this makes cleaning the shower — how you'll never have to scrub it again — it's totally worth it. – From Gym Craft Laundry
Fresh Lemon Homemade Dishwasher Detergent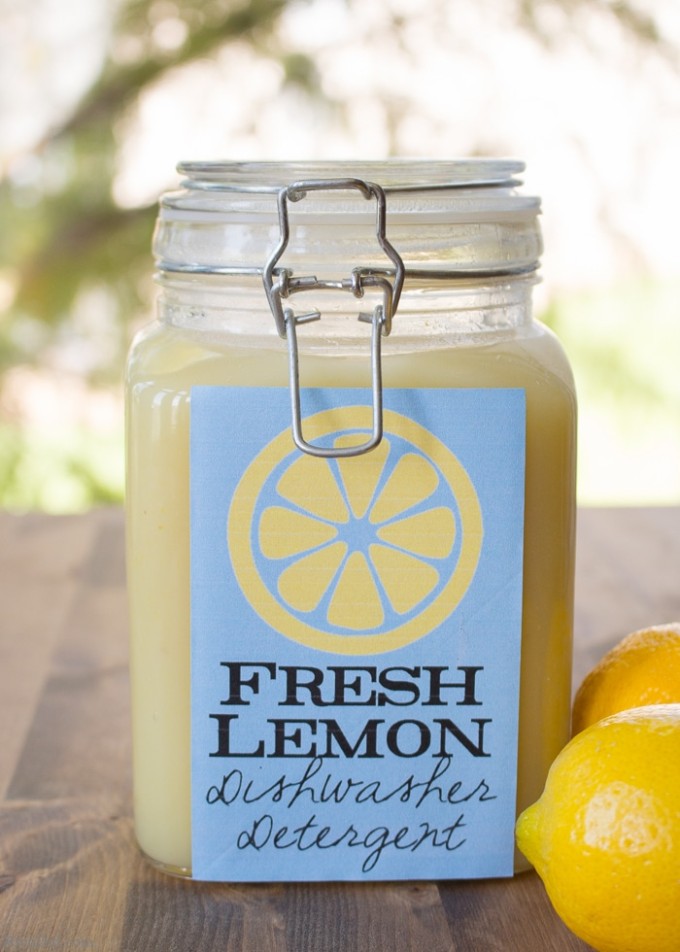 If you're into green cleaners, you should definitely have lemons in your arsenal at all times. The citric acid in lemons cleans away mineral deposits, which is so helpful for us because we have hard water. In this homemade dishwasher detergent, you'll combine lemons, white vinegar, and kosher salt (which serves as a scouring agent). Bonus: Your dishwasher will have an amazing lemon smell! – From Bren Did
DIY Grout Cleaner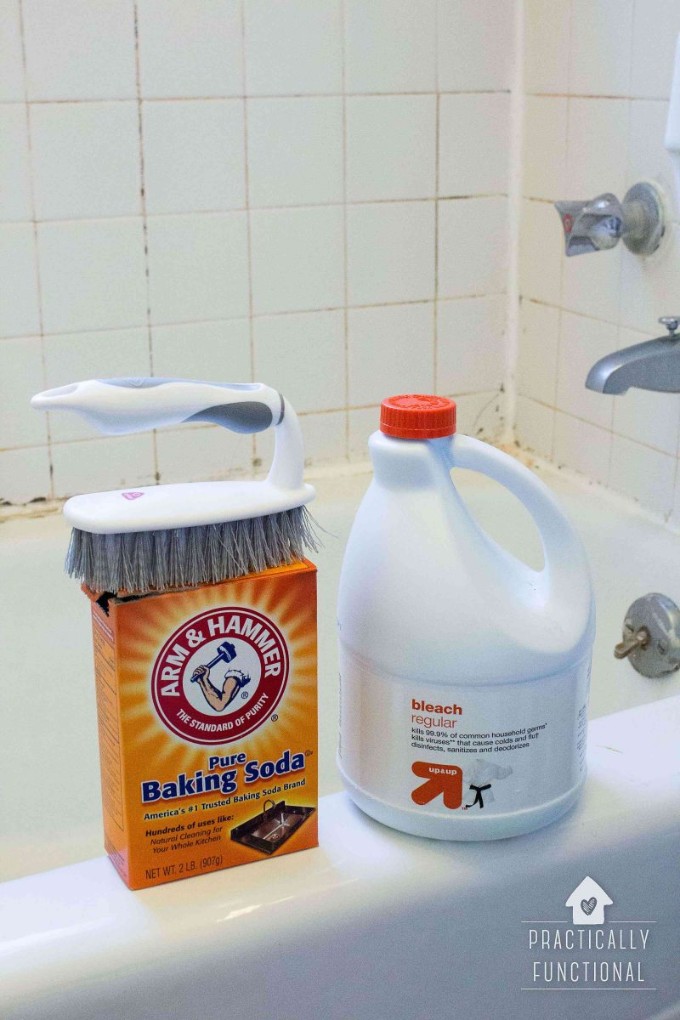 Does the grout in your bathroom tile look a little, well… gross? Ours has a few times! A simple mixture of bleach and baking soda are all you need to make this diy grout cleaner paste. With this, a good scrub brush and a little elbow grease, you'll defunk your grout in no time! – From Practically Functional
DIY Granite Cleaner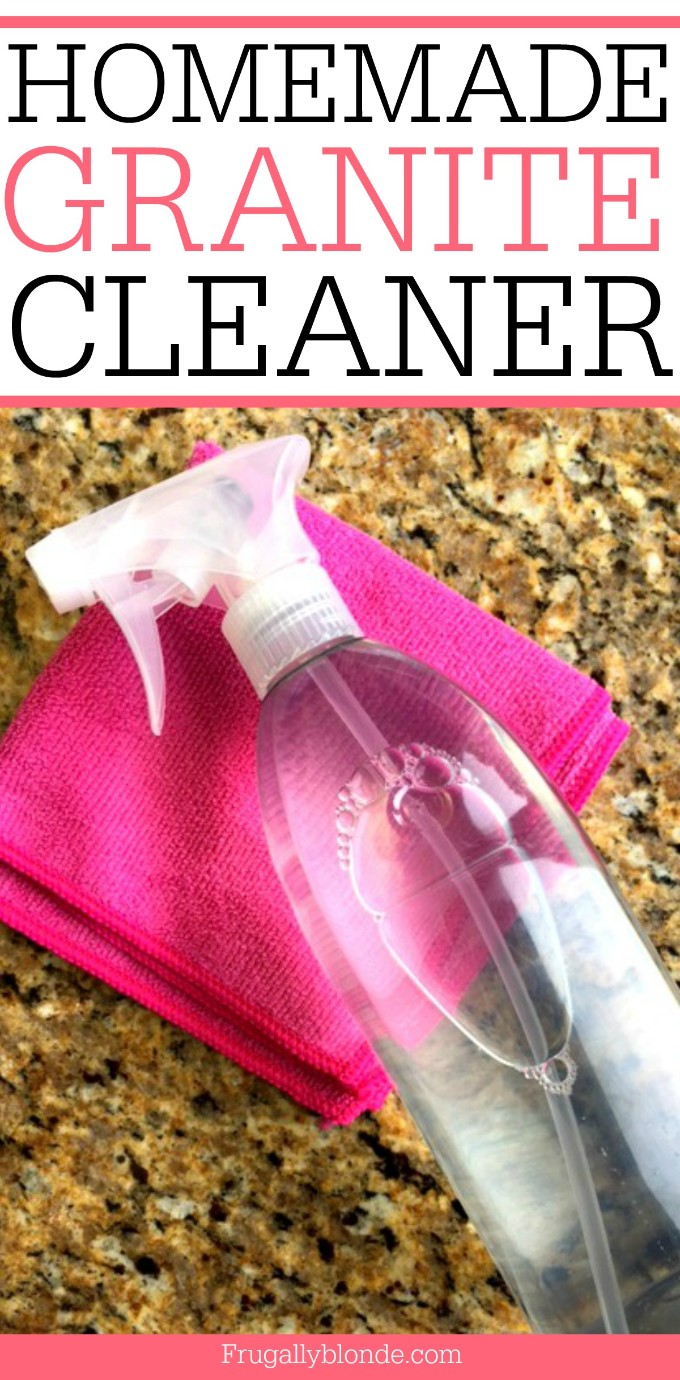 Make those granite countertops shine with an easy peasy diy granite cleaner. It's made with water, rubbing alcohol and dish soap… things you already have at home! You can add essential oils to give the cleaner a pleasant smell, but that's totally optional. – From Frugally Blonde
Homemade Garbage Disposal Cleaner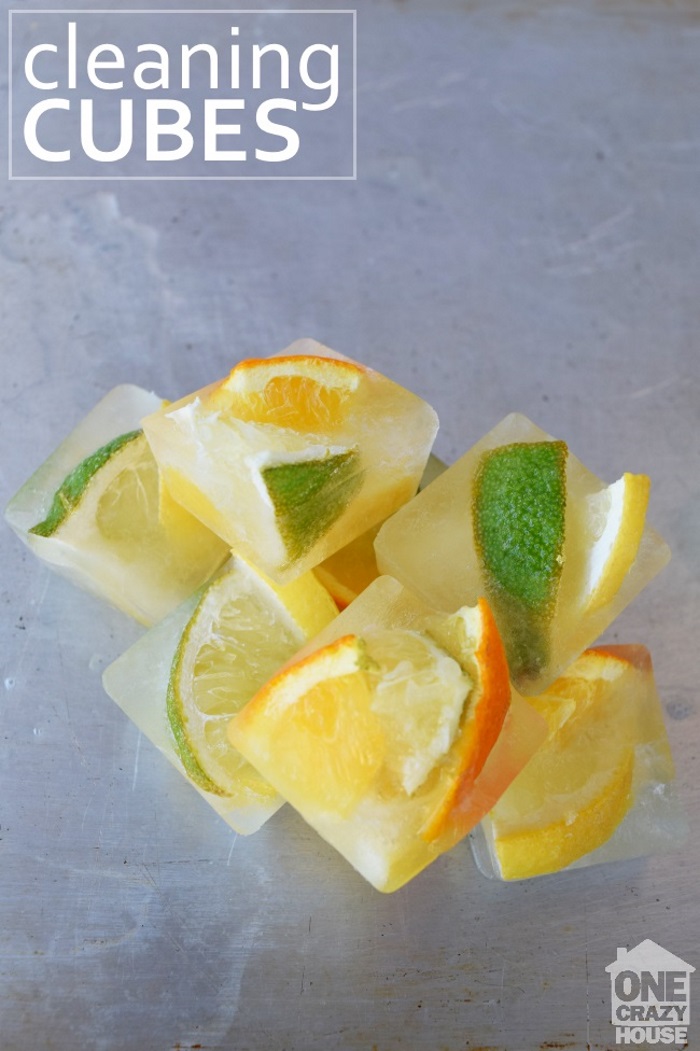 Have a stinky garbage disposal? Make your kitchen smell better fast with this DIY garbage disposal cleaner made of vinegar, citrus fruits and Thieves cleaner. Freeze the mixture in an ice cube tray, and store the cubes in a plastic baggie (clearly marked) to use whenever your disposal needs a little freshening up.  – From One Crazy House
DIY Carpet Deodorizer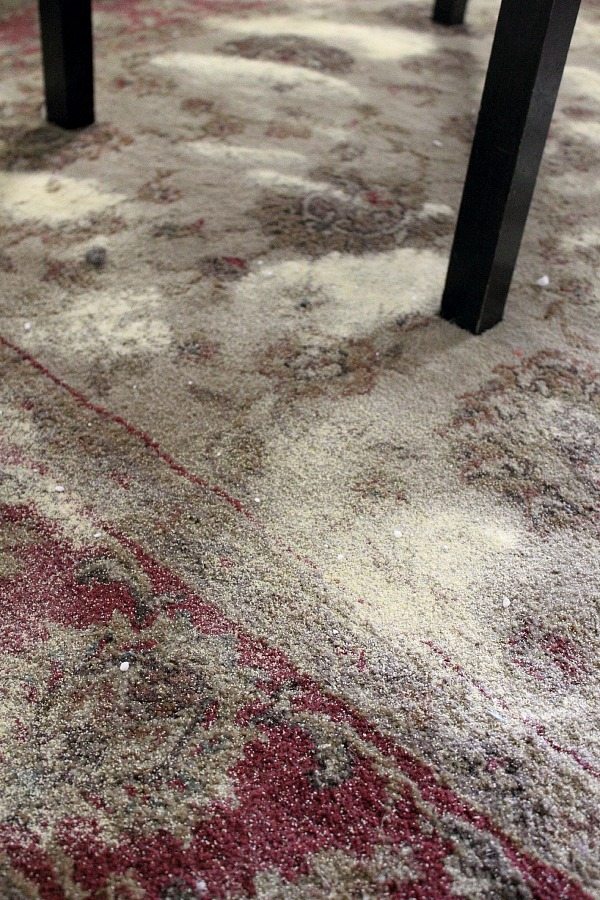 As someone with a large (and occasionally stinky) German Shepherd, I cannot tell you how excited I was to find this homemade carpet deodorizer made of… wait for it… borax and corn meal. You can add several drops of essential oils to give it a nice smell, but the idea is to eliminate the pet odors and fluff up your carpet. – From The Creek Line House
DIY Soft Scrub Cleaner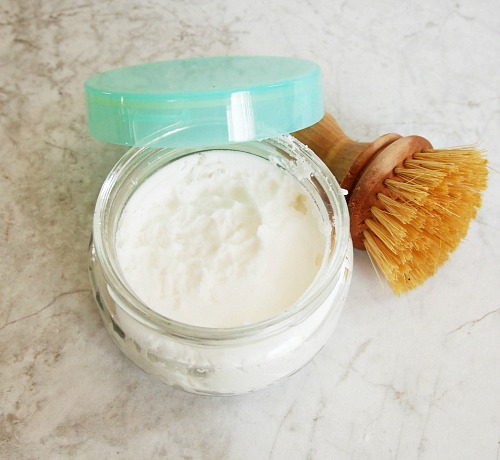 If  you prefer a soft scrub to clean sinks, countertop, tile and more,  you're going to love this DIY all natural soft scrub cleaner. It's a paste made of baking soda and castile soap, and you can add essential oils to make it smell nice if you'd like. It's super effective! – From A Cultivated Nest
Homemade Wood Floor Cleaner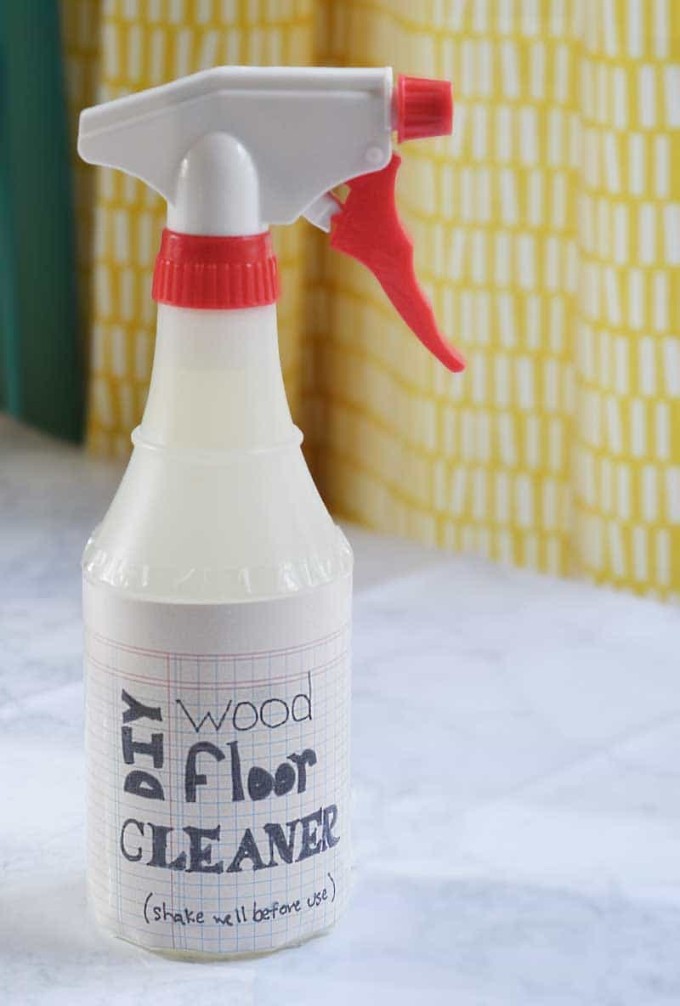 Make your wood floors shine like new with a homemade wood floor cleaner made from simple ingredients in your pantry and medicine cabinet. Really! It's made with olive oil, lemon juice, rubbing alcohol and water. The author of the post says the solution will keep at least a month and up to a few months, so don't be afraid to make a larger batch if you mop your floors often. – From Nellie Bellie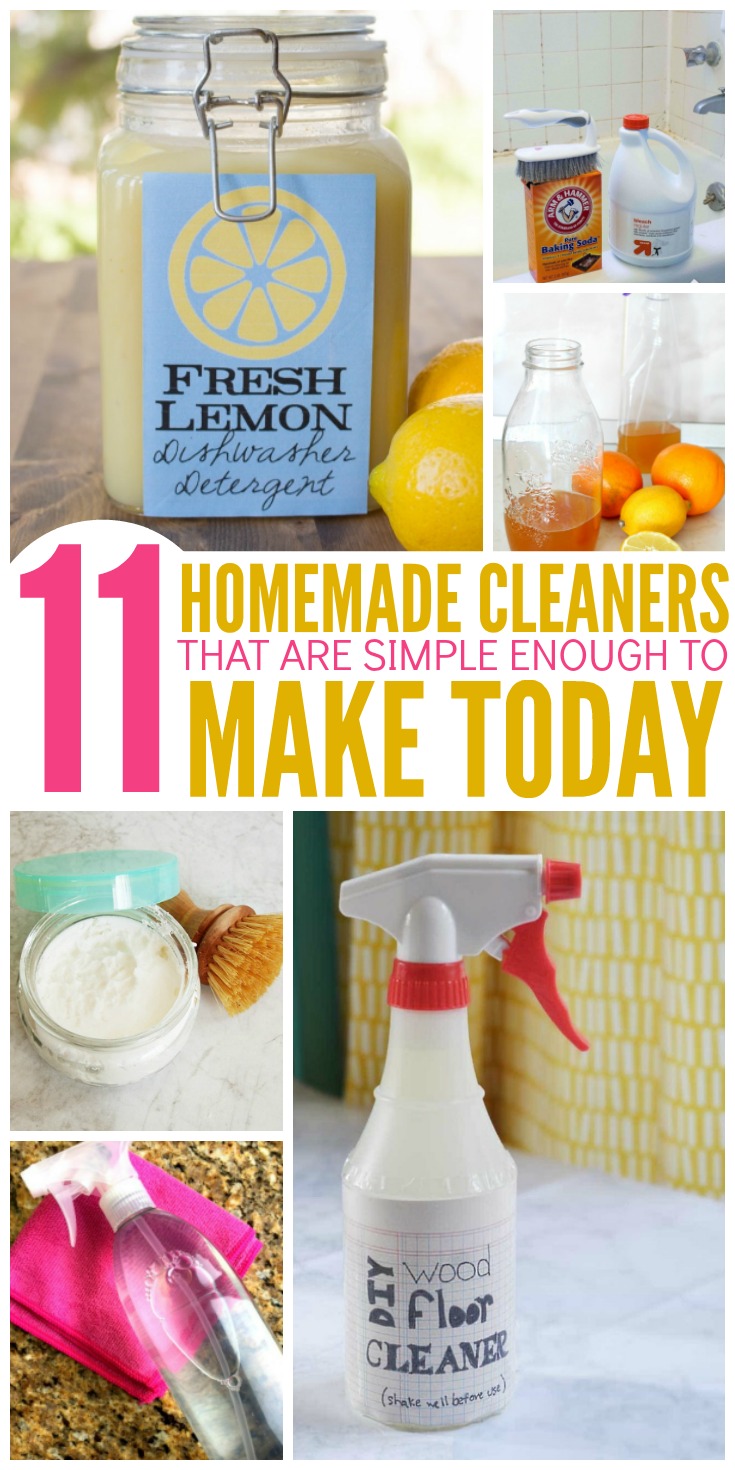 Do you have an awesome, effective homemade cleaning recipe you'd like to share with us? Comment with the ingredients, and we'll make it and photograph it, giving you credit, of course.
Don't forget to pin the image above to save these homemade cleaners for reference!