Teachers work hard during the school year making sure our kids get a great education. They are deserving of our thanks each and every day, but sometimes we want to take it a step further with a fun gift or token of appreciation. These 25 awesome teacher appreciation gift ideas include presents that will fit every budget.
So, even if your kiddos have lots of teachers that you want to thank, you'll be able to give them something meaningful, useful, or yummy. Let's get to that list!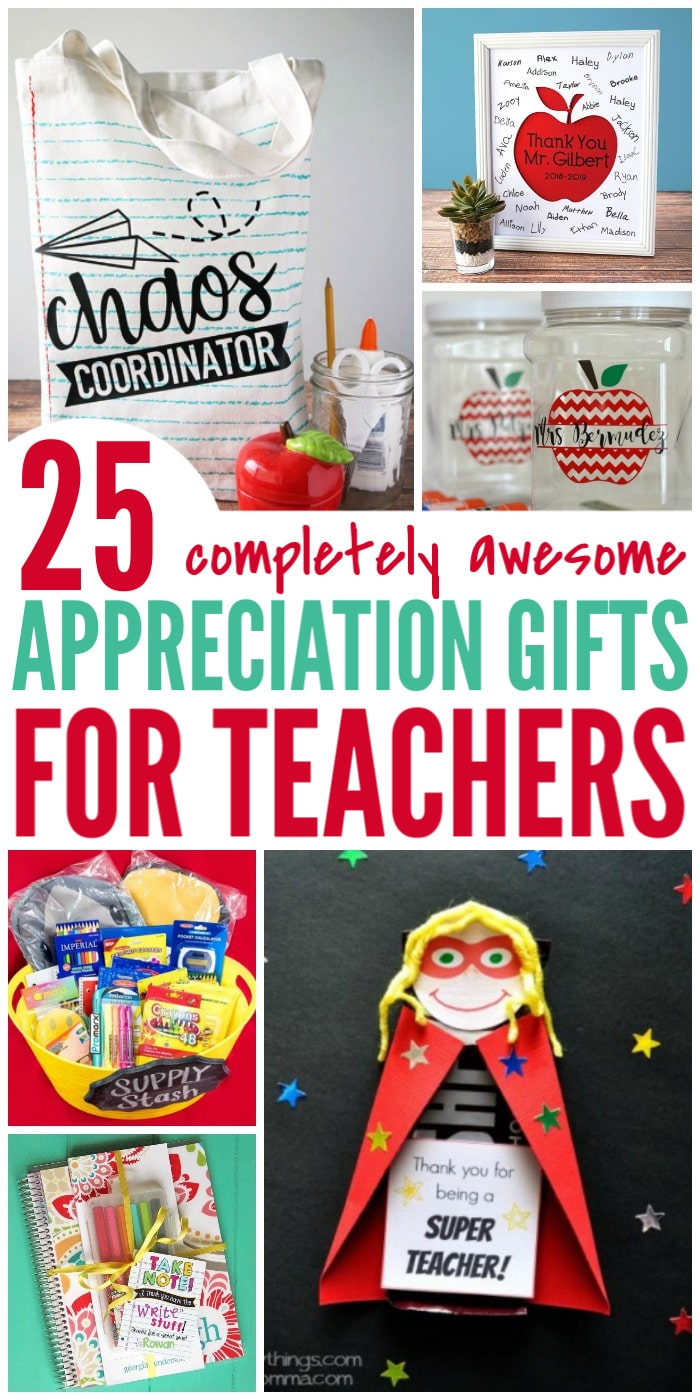 Awesome Teacher Appreciation Gift Ideas for Every Budget
We know that many teachers say they prefer gift cards (and we've included several gift card ideas!), but that's not always in the budget. So if money is tight or you just want to give something a little more personal and creative, you'll find lots of inspiration for awesome teacher appreciation gift ideas here.
Food Gifts
If you're on a budget and have a lot of teachers to show your appreciation for, these decorated candy bars are a cute and frugal idea!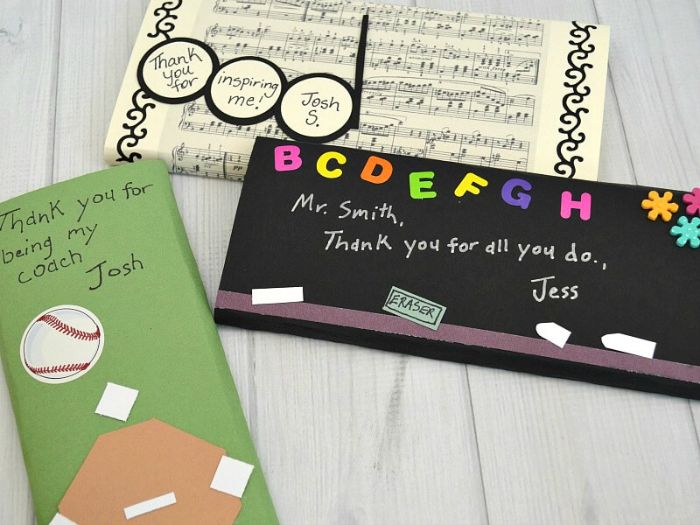 Here's another cute candy bar idea for the super teachers in your life.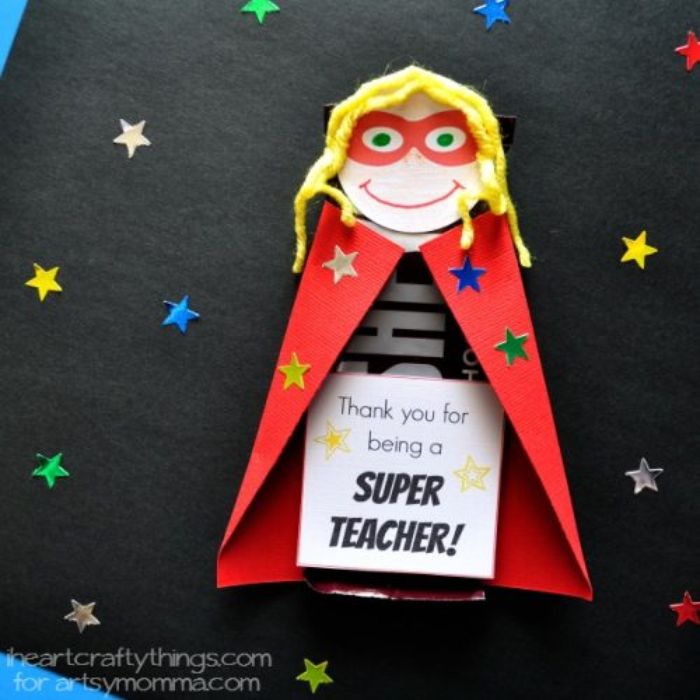 Give your favorite teacher a yummy snack with a gift that says, "We need s'more teachers like you!"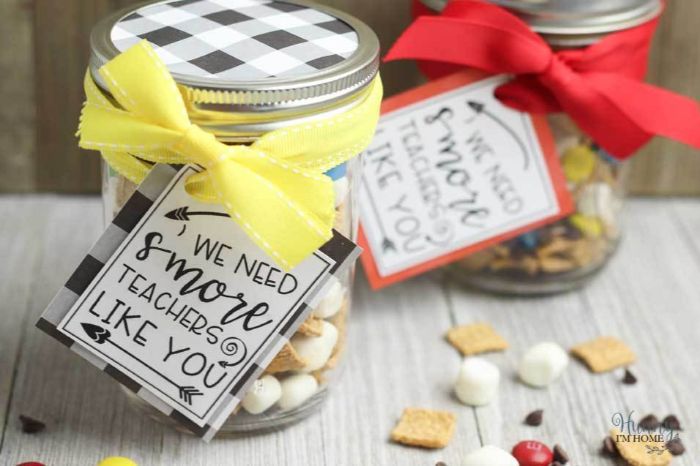 Gift a bag of gummy bears with a "Thank you beary much" gift tag. These could work as a thank you gift for anyone!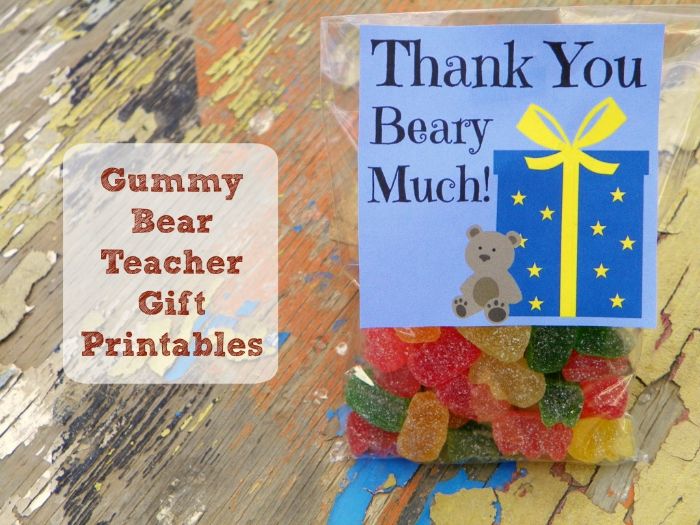 Thank you for making us Smarties this year! Love this Smarties gift jar.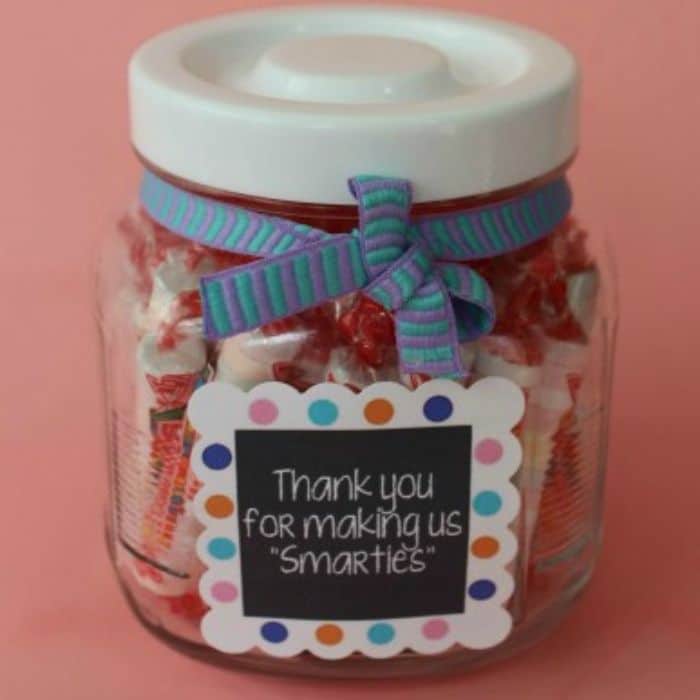 School Supplies – Awesome Teacher Appreciation Gift Ideas
This backpack full of school supplies is such a cute way to say, "Thanks for always having my back at school this year."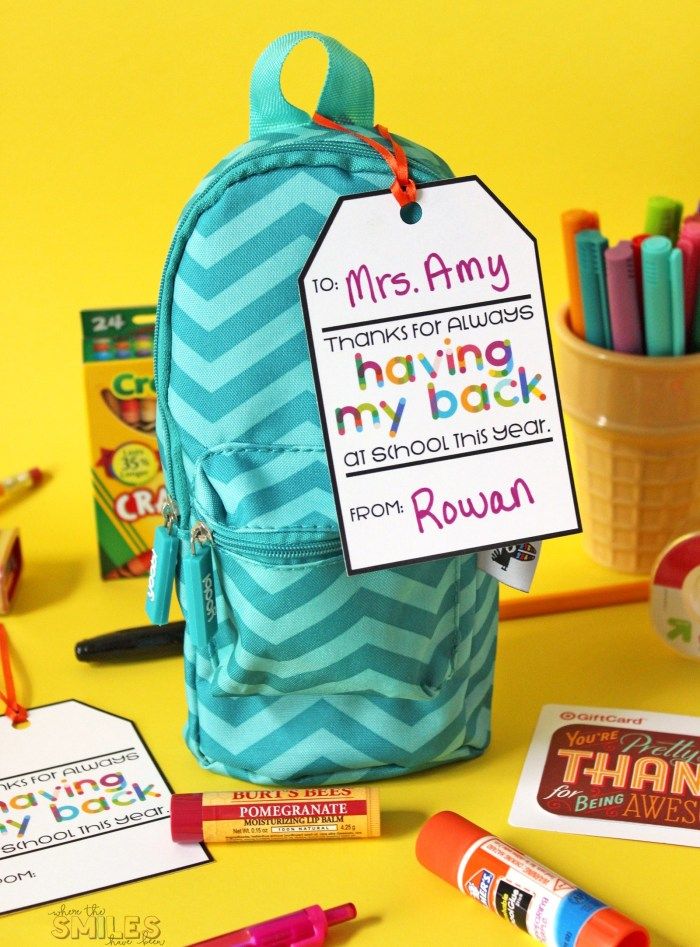 A personalized supply jar filled with dry erase markers, crayons, glue sticks, etc. can always come in handy for elementary teachers.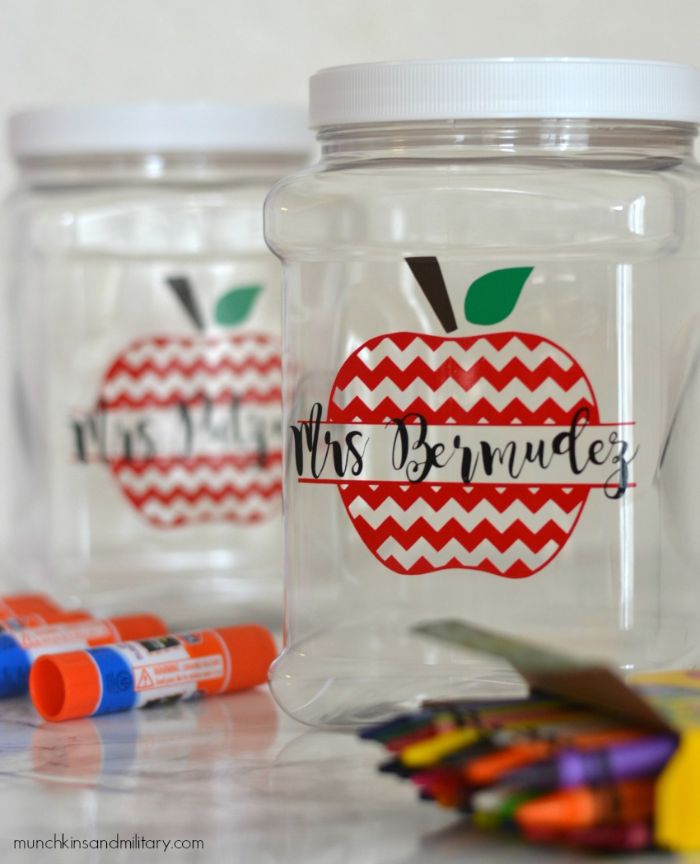 Teachers can never have too many notebooks, right? Pair a pretty one with some nice pens or markers for this Take Note teacher gift.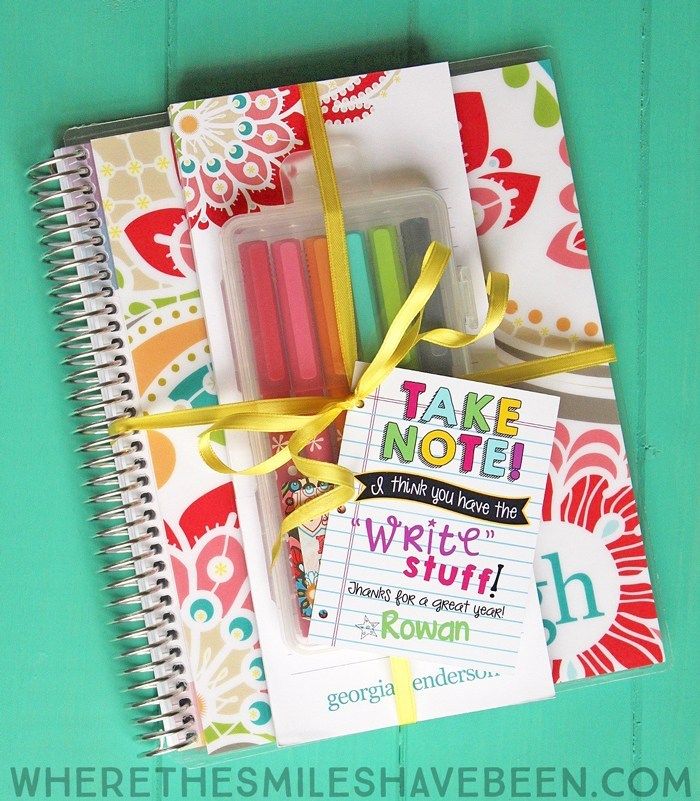 This Chaos Coordinator teacher tote bag aptly sums up the year for most teachers.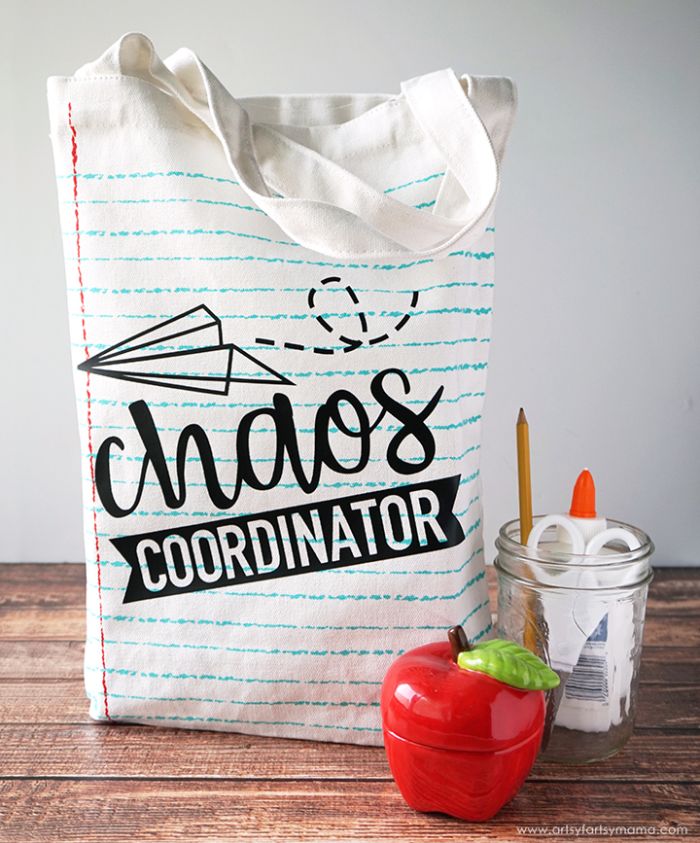 Fill a cute tub with supplies to make this supply stash gift.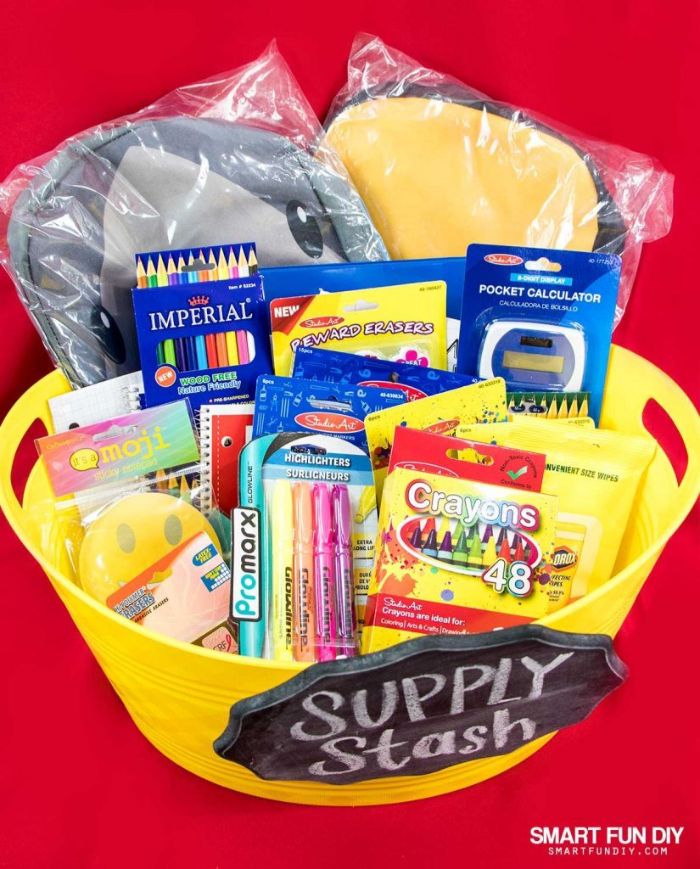 Fill a pencil vase with some beautiful flowers… or a bouquet of pencils or pens! And here's a version using colored pencils.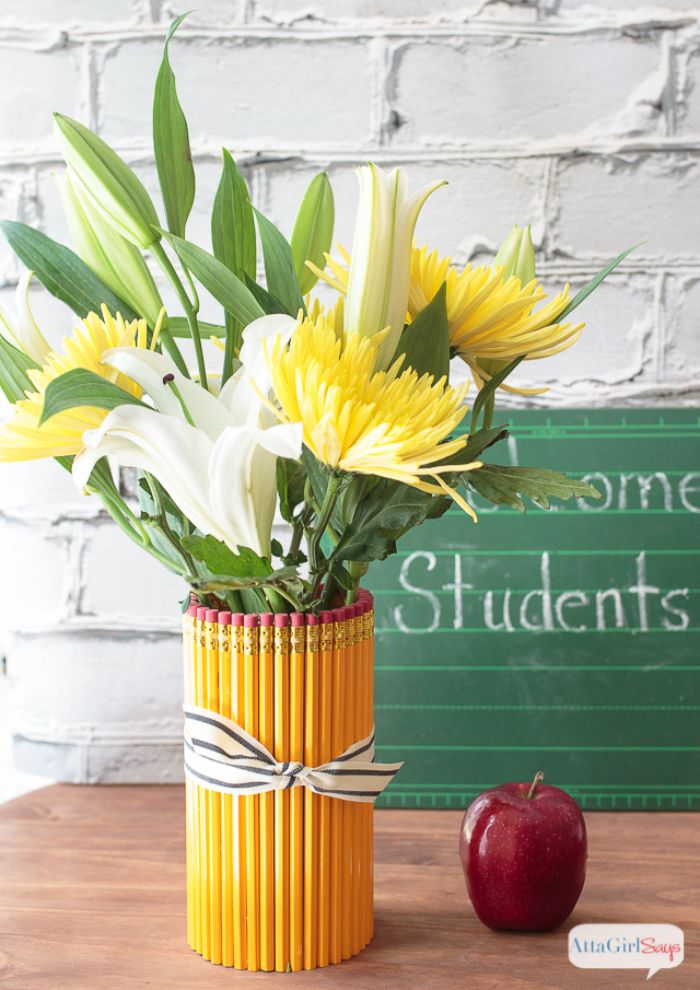 Gift Card Ideas
This Redbox teacher gift is so smart! Pair a Redbox code with a bag of popcorn and a box of candy for a super affordable gift for all the extra teachers and helpers that help educate your kiddos.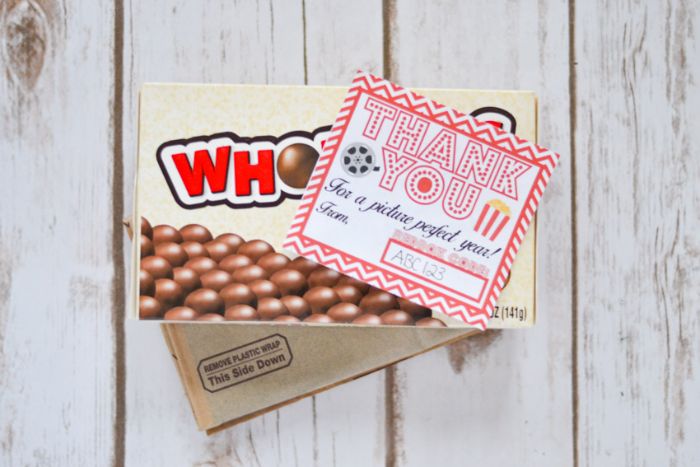 Say thank you with this Chick-Fil-A gift card idea that reads, " Thank you for Moo-tivating me this year."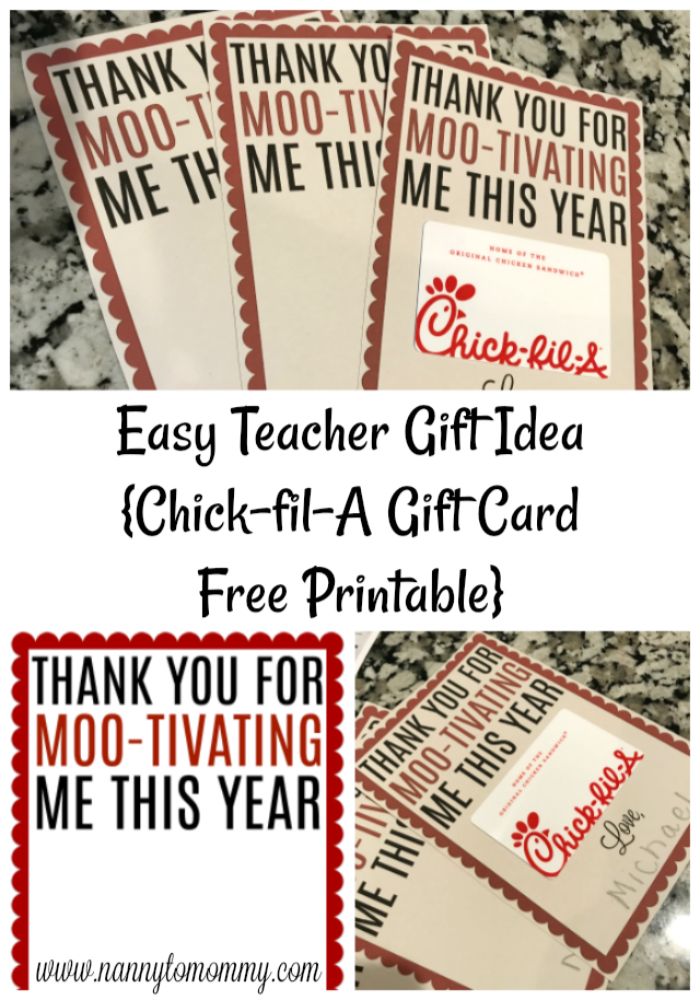 "Thanks a latte for all you do" is a great way to give a Starbucks teacher gift card!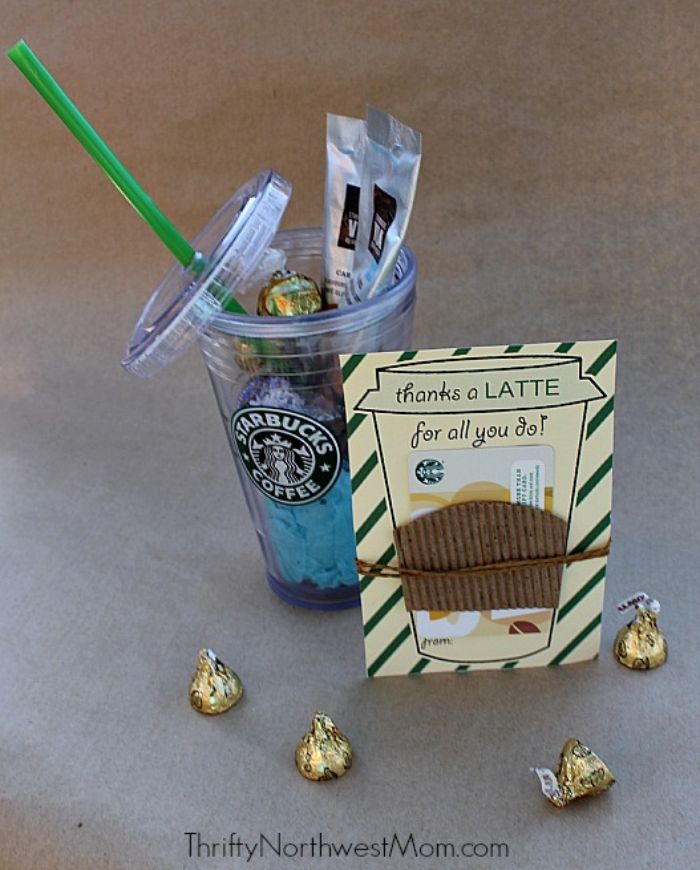 Nothing could be cuter than these pencil gift card holders.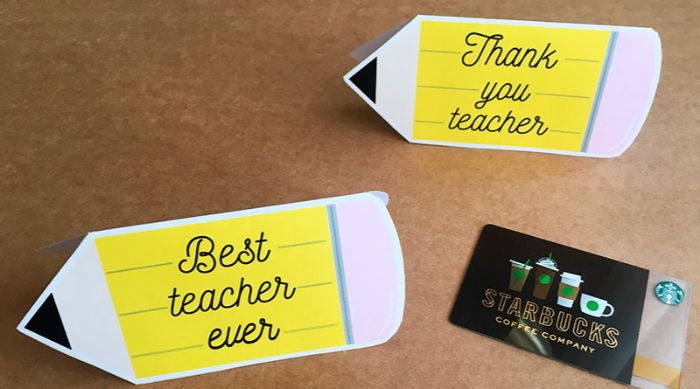 We know Amazon gift cards are always appreciated, and you can use these DIY Amazon gift card holders to present them.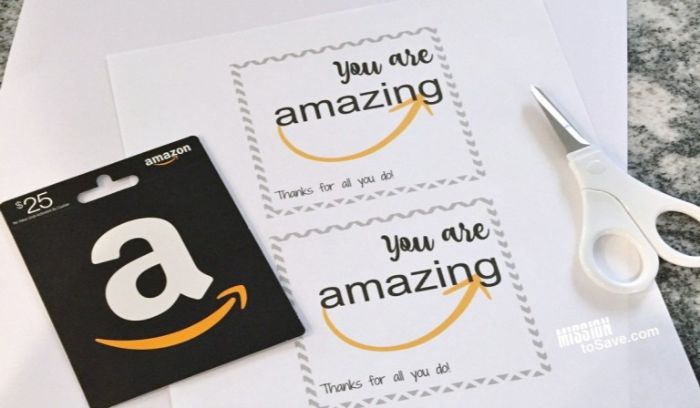 Other Gifts
Pair candles with this "Thanks for making me brighter this year" gift tag. So cute!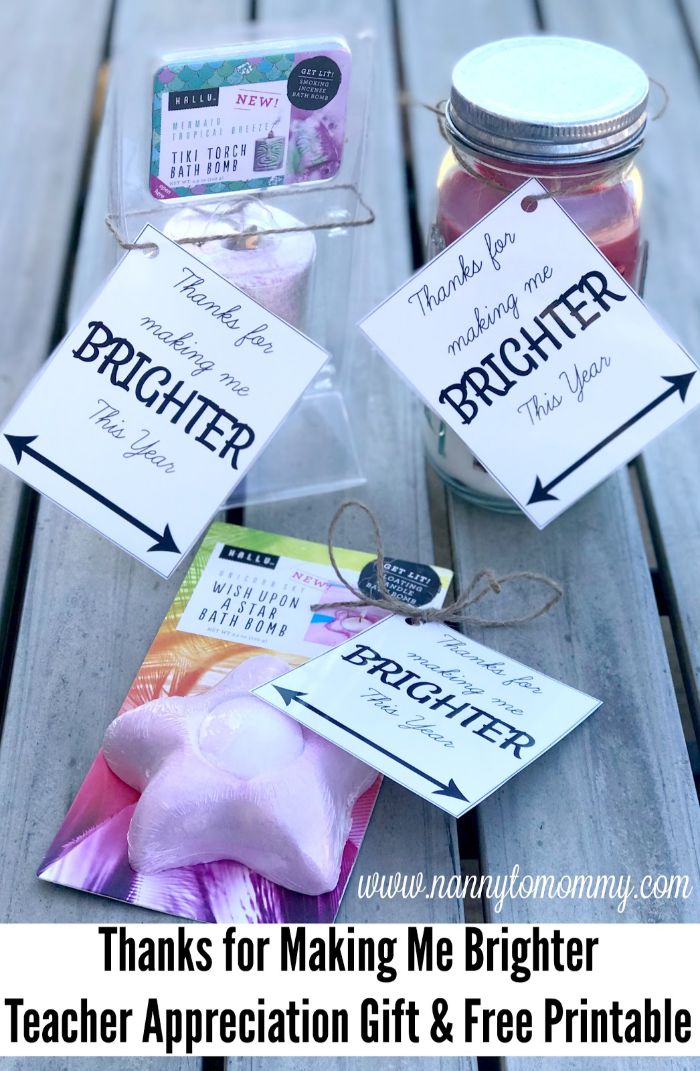 A student autographed sign is a lovely gift to present to the teacher on awards day or the last day of school.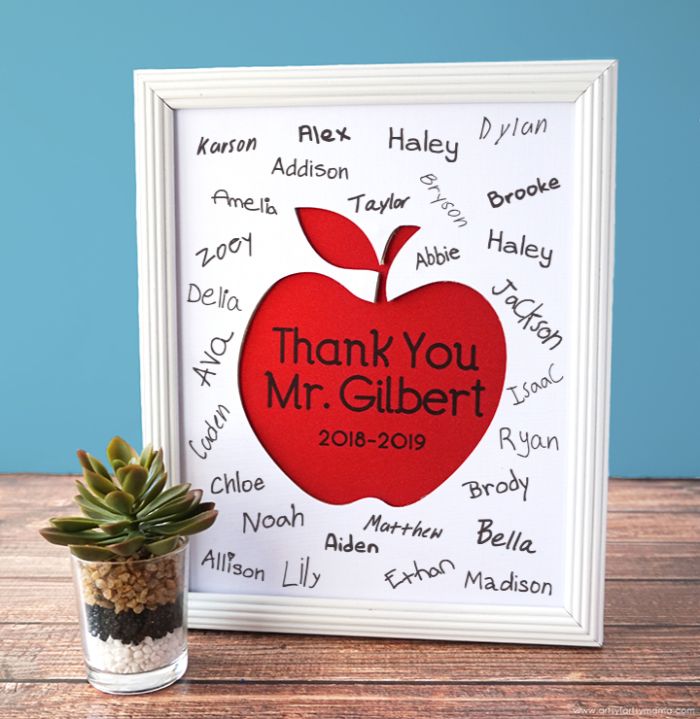 Teachers plant seeds that grow forever. How true! A seed bomb gift is the perfect thing for a teacher who loves to garden.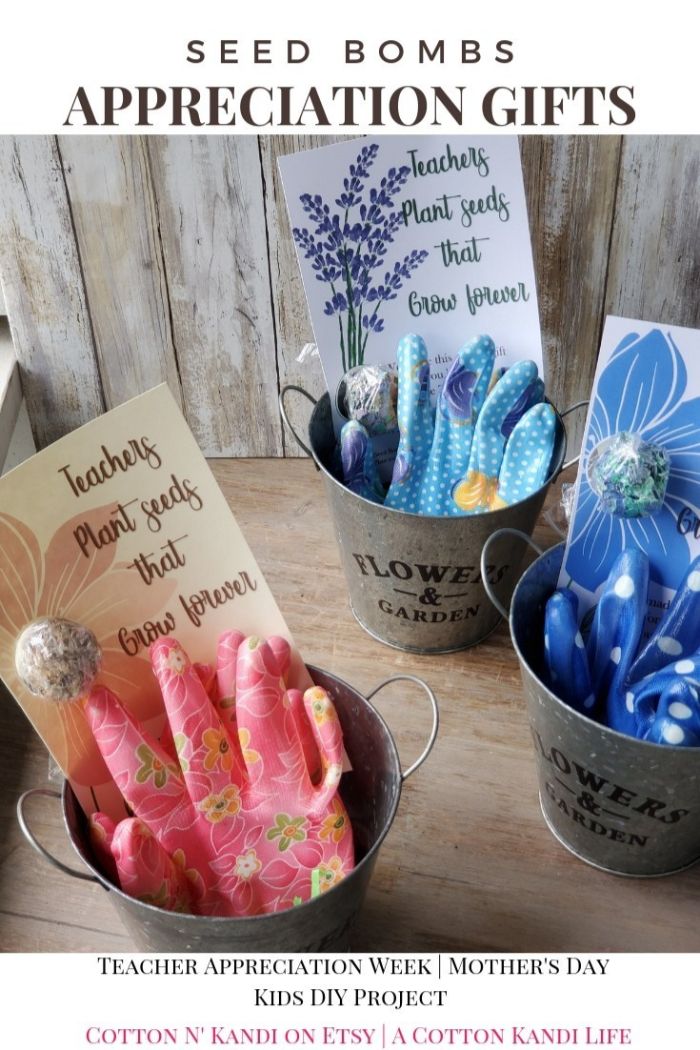 Marbled nail polish mugs (perhaps stuffed with a yummy bag of flavored coffee beans or grounds) is a practical and pretty gift.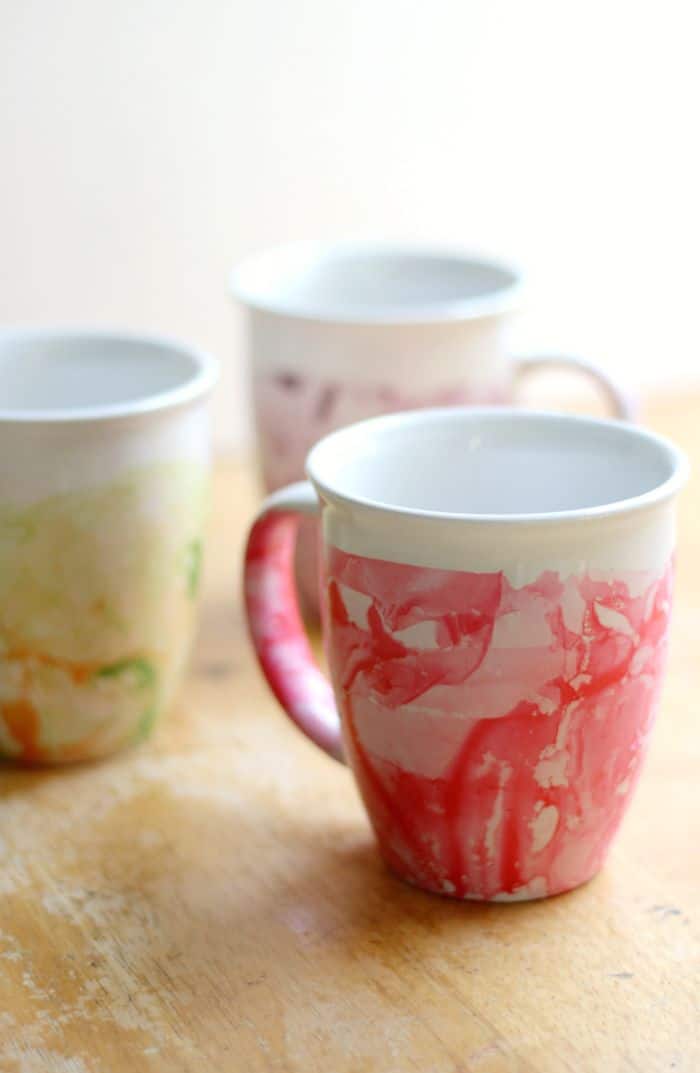 Help your favorite teacher stay hydrated over the summer with monogrammed water bottles filled with school supplies or snacks.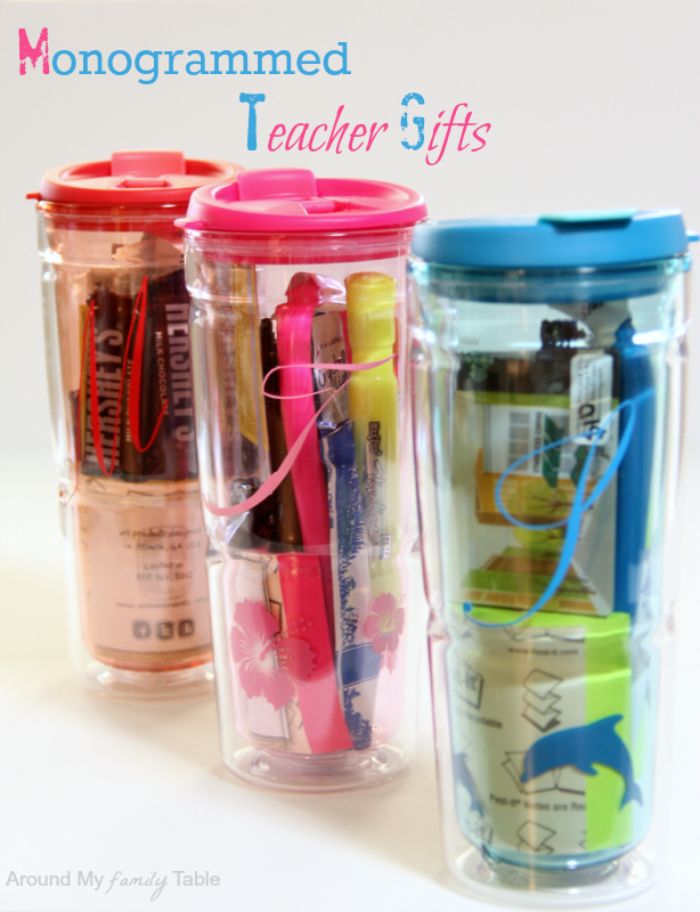 Lotions, emery boards, nail polish, etc. are all great ideas for this "You are hands down the best teacher" jar.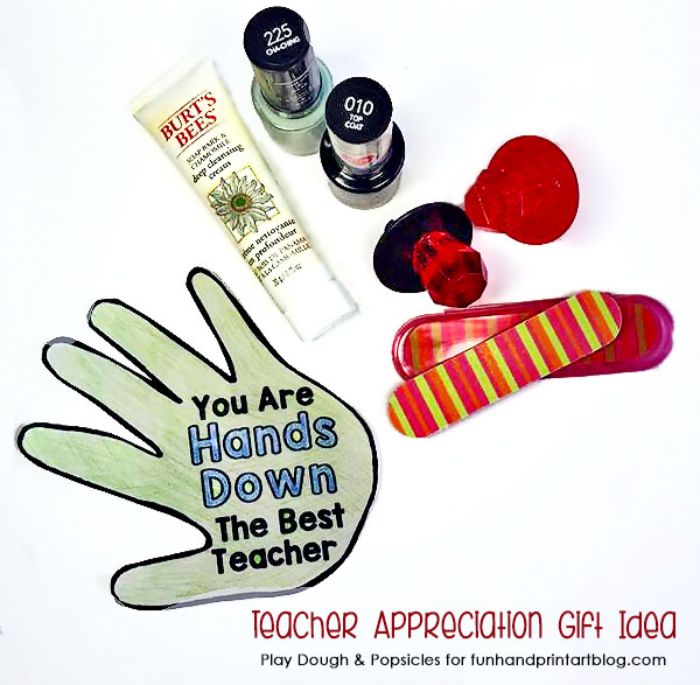 Here's a cute mason jar gift tag to put on anything else you can fit in a jar!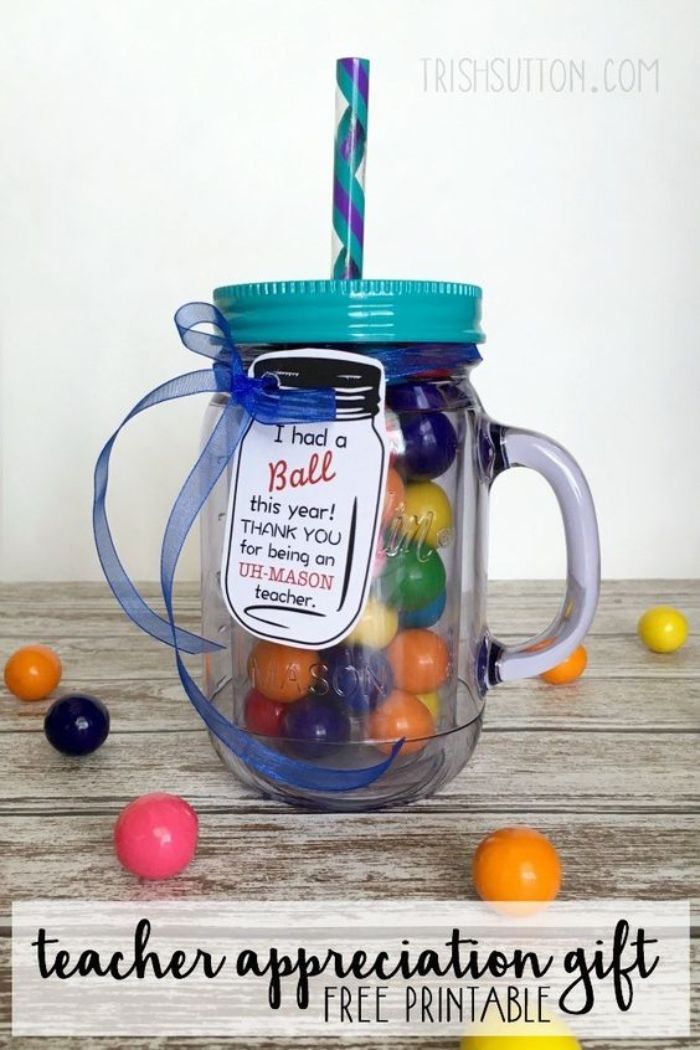 These colorable pillow boxes are a great way to present gift cards or sweet treats.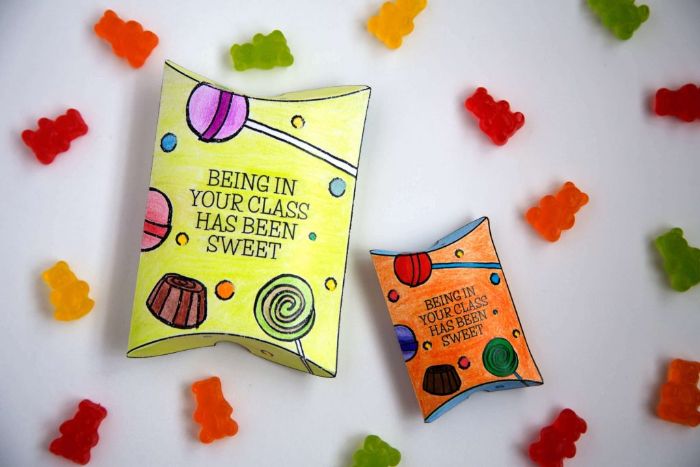 Really, a teacher appreciation gift basket can contain anything you like. We love the idea of including a potted plant with the school supplies.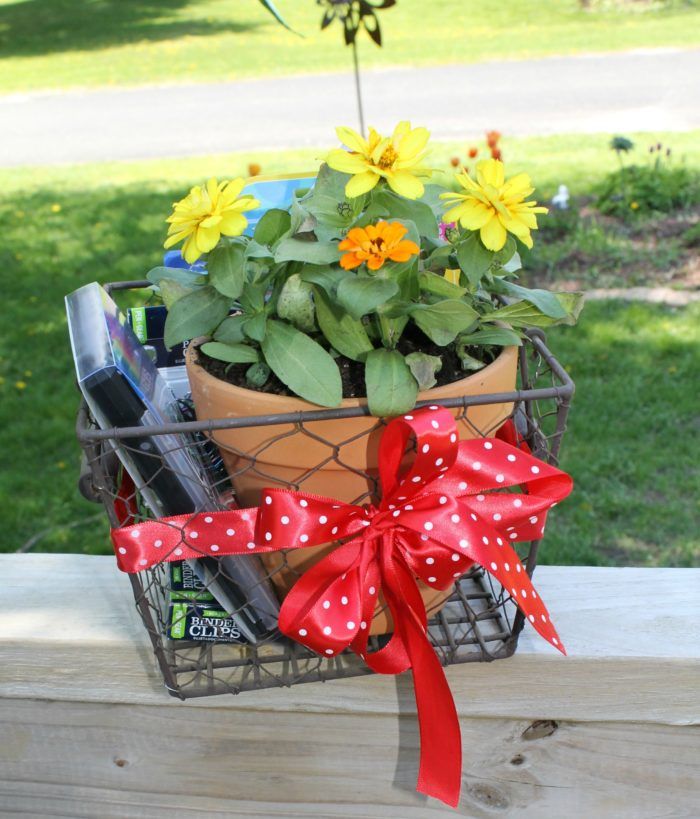 Which of these awesome teacher appreciation gift ideas are you going to use? Let us know what you make!